Begum Hazrat Mahal National Scholarship 2021-22: Moulana Azad Scholarship is provided by Begum Maulana Azad Education Foundation program is for those girls candidates who are pursuing in class 9th to 12th. All communities like Muslim, Christian, Sikh, Buddhist, Jain, and Zoroastrians (Parsis) have been notified as minority communities. The distribution of scholarship among the States/Union Territories will be made based on the population of the above notified minorities in the States/ Union Territories of Census 2011.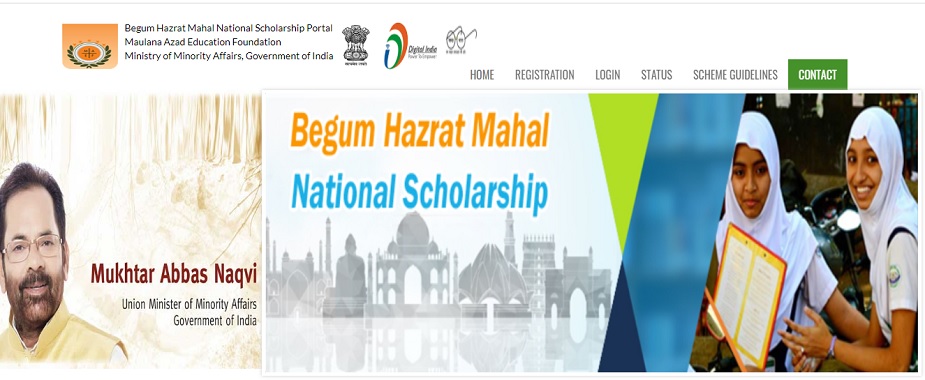 Begum Hazrat Mahal Scholarship (moulana azad)
Begum Hazrat Mahal National Scholarship awards a scholarship amount of up to INR 12000 to minority girls who are studying in class 9 to 12. All those girls who belonging to 6 minority communities which include Muslims, Christians, Sikhs, Buddhists, Parsis, & Jains will get this scholarship. Those girls minimum scored 50% marks in their last examination will get prize amount as Begum Maulana Azad Education Foundation scholarship.
Online Registration of applications has been closed.
Income Certificate of parents/guardian to be issued by Gram Pradhan/Sarpanch, Municipal Board, Councillor, MLA, MP or from any Gazetted Officer or Competent Authority declared by the State Govt./UTs Administration. Income certificate in English/Hindi/Regional language. In case the Certificate is in Regional language, then it should be accompanied by self-certified Hindi/English Version.
Maulana Azad  Scholarship Amount/Reward
Actual amount of scholarship will be provided for admission & course /tuition fee and maintenance allowance as given below subject to a maximum ceiling indicated against item concerned:
| Sr. No | Item | Amount in Rs. |
| --- | --- | --- |
| 1 | Admission & tuition fee for classes IX and X | Actual subject to a maximum ceiling of Rs.10000/- (Rupees ten thousand only) which will be released in two installments of Rs. 5000/- each |
| 2 | Admission & tuition fee for class XI and XII | Actual subject to a maximum ceiling of Rs.12000/- (Rupees twelve thousand only) which will be released in two installments of Rs. 6000/- each |
Maulana Azad  Scholarship Eligibility Criteria
9th class to 12th candidates are applicable for Maulana Azad
Connected to national minorities, Muslims, Christians, Sikhs, Jains, Buddhists, Parsis, can apply but only girls students.
From all sources, household income maximum of Rs. 2.00 lack.
Maulana Azad Rewards:
The rewards amount will differ for each class. The total amount of Rs.10,000 is reserved for each 5,000 in class 9th and  5,000 in 10th class and  Rs. 12000 for each 6,000 in class 11th and 6,000 in class 12th. Girls will get these reward amount through this opportunity.
How to Apply Begum Hazrat Mahal National Scholarship Portal 2021?
To apply online "click here".
Fill you're all required and important details in an application form and then submit the form.
Household income certificate.
Attested class 10th mark sheet and verified by the principal of a school and attested photo of your by the principal.
Selection procedure
The selection of the girl's students will depend on the annual income of students' families.
Important Date
Closed is the last date for online registration for the Begum Maulana Azad Scholarship application. For information regarding Maulana Azad Scholarship "bhmnsmaef.org/maefwebsite"
More:
Frequently Asked Questions (FAQs)
Do I have to bring the original documents in the last round?
The role of the document in the final is very important because if the students make all the rounds clear, the documents will be needed for their further processing. Students will need to take a printout of the original documents and authorization so that further programs can be scaled up.
Once I have submitted my Begum Hazrat Mahal National Scholarship application, can I make further edits and add attachments?
Once you submit your application, you can no longer edit. If the required information is missing, your application will be disqualified. We recommend that you save the format of your application. However, before reviewing all the requirements to complete your application again.
Which fields can the institute/state edit?
The fields that can be edited are Gender, Religion, Category, Profession, Annual Income, Aadhaar Number, Disability, Day Scholar / Hostler, Mode of Study, IFSC Code, Account Number, Admission Fee, and Tuition Fee. However, the reforms, if any, undertaken by the institute/state will be notified to the student immediately through SMS / Email.
About Maulana Azad :
The Scheme of "Begum Hazrat Mahal National Scholarship" for Girl Students belonging to the Minority Communities was earlier known as "Maulana Azad National Scholarship" Scheme. It was started by the Foundation in academic year 2003-04. The main purpose of the scheme is to provide financial assistance to meritorious girl students belonging to national minorities, who cannot continue their education due to lack of financial support.
The Scholarship Scheme of the Foundation is very popular scheme and its sanctioning quota is increasing year by year. Till date 5,89,838 girl students have been assisted with Rs.504.16 crore by the Foundation since Inception spread all over the country.
Begum Hazrat Mahal National Scholarship 2021 Scheme available on maef.org, moulana azad scholarship Selection procedure