L'Oréal India For Young Women In Science Scholarships provides an opportunity to get up to INR 2.5 lakh. L'Oréal India For Young Women in Science Scholarship is a merit-based scholarship offered by L'Oréal India.
L'Oreal India Scholarship
L'Oréal India For Young Women In Science Scholarship 2021 provides help to an economically disabled woman who wishes to pursue a career in any Science stream from any recognized board of India. L'Oreal Women scholarship is a merit-based scholarship offered by L'Oreal India. The L'Oreal scholarship for young women was started by L'Oreal Foundation. The L'Oreal Scholarship is meant for young women in India in the field of Science stream. L'Oreal India Scholarships for Young Women in Science 2021 is initiated as L'Oreal believes that Science has played a great role in Progress and the awarding any woman is essential for their future. This L'Oreal Scholarship program commenced in the year 2003 for the future in Scientific Fields. for more detail please check the official website www.forwomeninscience.com. This scholarship helps women by providing an amount that covers their college tuition fees.  L'Oréal India For Young Women in Science Scholarship – Application process.
L'Oréal India For Young Women In Science Scholarship 2021 has been started for the session 2021-22.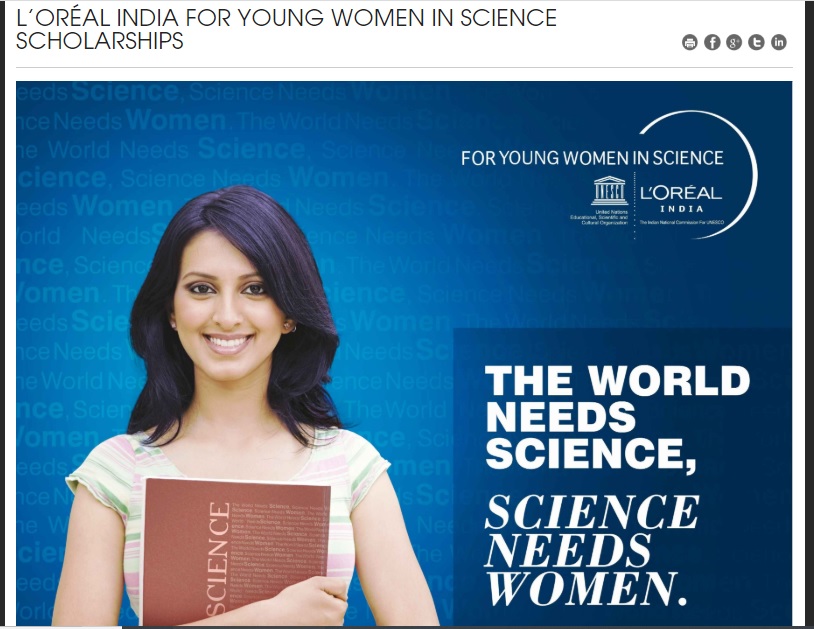 Eligibility Criteria for L'Oreal India Scholarship
A minimum of 85% marks should be scored by the candidate in the stream PCB/ PCM.
Only girls are eligible to apply for this scholarship.
 The minimum age required is 19 years as of May 2021 to be eligible for this scholarship. 
 The candidate's family household revenue must not surpass Rs. 4,00,000.
The girls who completed their 12th standard in batch 2021-20 are eligible.
Fair and Lovely Foundation Scholarship
Scholarship Details of L'Oreal Scholarship India 
The number of scholarships provided by the L'Oreal to date is 300.
This L'Oreal Scholarship covers the college tuition fee of any Scientific Course from any recognized Institution or University.
A total amount of Rs. 2,50,000 is granted to the selected candidates to remove their economic disability in paying the college tuition fee.
The L'Oreal scholarship is applicable only for Indian candidates.
Selection Process for this scholarship program
Candidates will be selected for L"Oreal Scholarship on the basis of their financial status and academic performance.
The candidates will be shortlisted for a telephonic interview.
 After that,  the second round will be conducted through a video call in which at least one member of the family is required to attend the video call.
 The results will be announced within 20 days of the interview. 
In case the candidate does not get selected in the interview, no request will be accepted for the same.  The selected candidates will be called for an interview with their parents to Delhi/ Hyderabad/ Mumbai/ Bangalore, whichever is close, at their cost.
Application Procedure for the L'Oreal Scholarship 2021
Applications can be filed through online mode at www.foryoungwomeninscience.com
You can also download the application form from the above-mentioned website and send in the completely filled form along with the important docs to the address mentioned below:
"The Scholarship Cell, L'Oreal India Pvt. Ltd., 8th Floor A wing Marathon Futurex, NM Joshi Marg Lower Parel, Mumbai-400013" 
NOTE: Generally every year the last date to fill the application form was in the month of July. But for the year 2021-2022, the last date to submit the application form is 15  October 2021. 
Kishore Vaigyanik Protsahan Yojana 
Frequently Asked Questions (FAQs)
Can I submit the L'Oreal India Scholarship
application form online?
Online mode 

For all the students who want to apply, they must do it on the official website. After going to the official website, seven steps have to be completed. For registration, students will first have to mail ID. In the second phase, the students will have to give their personal and education details and then write the essay which is mandatory for registration. In the end, students have to attach their documents.

Offline mode

Students have to download their application form after which they will have to give all their information in it and in their handwriting, they will have to write an essay on a separate sheet which they will have to attach to their document. 

Send by post or courier

Send the form with documents to " L'Oreal India, The Scholarship Cell, C/O Buddy4Study, Technopolis IT Hub, C-56 A/12, 4th Floor, Sector 62, Noida, Uttar Pradesh 201301 India "

How many scholarships have been given to students so far?
Till now the students have received more than 300 scholarships through this scheme
In which field of science is this L'Oreal India Scholarship awarded?
This scholarship is open to graduate studies in any field of science – pure science, applied science, engineering, medicine, or any other undergraduate course related to the science stream.
L'Oreal India Scholarship 2021 For Young Women in Science for Girl Application Form, Last Date