Mahindra All India Talent Scholarship offered by the K. C. Mahindra Education Trust (KCMET).  This scholarship was started in 1983. This scholarship is running in 37 educational institutions across the country with an aim to excite and reward excellence in studies. After 1956, K.C. Mahindra Education Trust has provided interest-free loan scholarships to qualify students for postgraduate study abroad in various fields. This scholarship has proved to be very helpful for students who have taken admission for Government and any other Polytechnic Institute for Diploma course and scholarships are eligible for 10th and 12th class students who have passed. Some of these were way back in the mid-1950s, more recently, while others were beginning a proof of their continuing efforts to bring about social and economic development through a literate set up, Enlightened and empowered population. The only goal of the Mahindra All India Talent Scholarship is that students who are unable to spend much for their studies, because of their financial condition, the only goal is to incur and motivate those students through one of our  K. C. Mahindra Education Trust. 
Apply for Mahindra All India Talent Scholarship (MAITS) 2023
All that you need to know about Mahindra All India Talent Scholarship (MAITS) 2023. K. C. MET invites applications for MAITS 2023. MAITS is awarded to students belonging to economically disadvantaged families, who wish to pursue a Diploma course at a recognized Government Polytechnic in India. This  Mahindra All India Talent Scholarship is awarded to students achieving the highest total marks, based on year-end examination. In addition, a student who receives a Mahindra Search for Talent Scholarship more than once is entitled 'Sahab Scholarship' which also includes a cash prize of Rs. 5000 / – and from a reference to the trust. This scholarship is available to students from low-income households who want to study a job-oriented diploma programme at a recognised government polytechnic in India.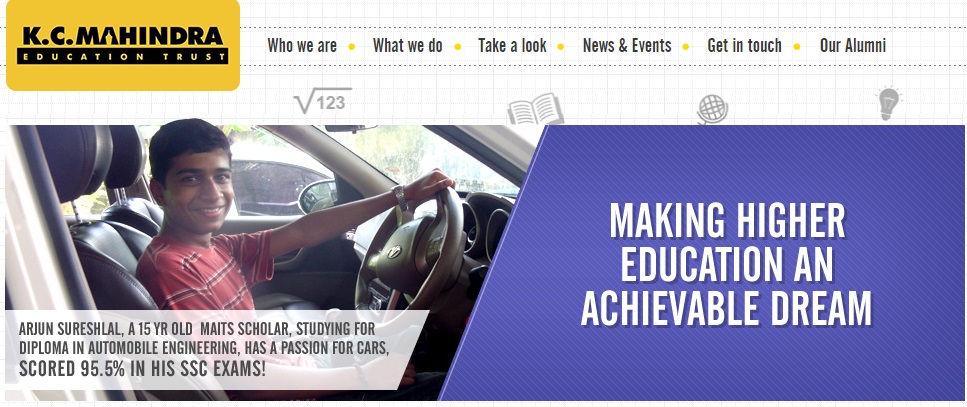 Last date to apply:-
Every year from June and July, the application form starts filling up. Apart from this, the students who are shortlisted can call in any of the 12 centers all over India for interview.
Benefits of Scholarship
Number of Scholarships: 550 You are given 10 thousand per year every year through a scholarship for about 3 years.
Eligibility Criteria of  Mahindra All India Talent Scholarship
The age of the candidates should be from 16 to 18 years

.

Students who have passed the first class in graduation level will be called Eligible. (

For Post Graduate

)

Students have to get 60% marks in 12th class.

Students who have passed equivalent examinations in SSC / HSC or 10th / 12th class, and are admitted for Government or Diploma course in any other recognized polytechnic institute are eligible for this scholarship.

Applicants should have Indian candidates who have applied for admission to respected foreign universities for courses starting from August 2023 or not, but no later than February 2023.
How to apply for K.C. Mahindra Education Trust in India Scholarship?
After downloading the  Mahindra All India Talent Scholarship offline application form, please do not write any information in double writing without any mistake, required passport size photo, date of birth, education details and personal details will be completed, after that students have to upload the document with it,  You can submit your application form Go through the last page of the application form and send it to your nearest center.
Contact details
Mahindra & Mahindra Ltd
Mahindra Tower, Automotive Sector
1st Floor, 24,25,26 Durga Vihar Colony
Durga Pura, Tonk Road
Jaipur-302021
Contact person: Mr. P. V. Ramchandran
Email: RAMCHANDRAN.P2@mahindra.com
Ph no: (022) 22897848
Frequently Asked Questions (FAQ)
Indian students can apply at Foreign universities?
Many study abroad scholarships have similar deadlines, which often depend on the start dates of the academic year in the relevant country. If you want to apply at Foreign University, then all the students have to start applying from August 2023 and the process of admission will be till Marc 2023. Those who want to apply for admission in 2023 will have to submit their application form from August 2023 to February 2023.

Can I make Mahindra All India Talent Scholarship admission online?
Yes, the students have been given two turns for Mahindra All India Talent Scholarship admission, both online and offline, which you feel is right for you, you can increase the process further.
What details do I have to fill up in the Enrollment details of the Application form?
In the Enrolment Number column enter your Roll No. in the Course/Branch you are enrolled to.
In the Enrolment, the Date column enters the Date of Admission in the First year of your enrolled Course/Branch.
How can I apply for a Mahindra All India Talent Scholarship if I have not availed of it in the first year of the course?
Online fresh application submission is possible only for first-year students. After downloading from the "Download" option of the home page, take a printout of the scholarship application form. Fill it and submit it to the institute along with all the required documents. The institute is requested to register and submit a scholarship application on its behalf. You should keep a record of "Applicant ID" and "Password" from the institute so that you will be able to modify the details and track the status of the application.
What should I do, if I do not find my institute name in the drop-down menu?
You should immediately approach the institute to contact the District Welfare Officer (DWO) of the District where the institute is located. If your institute is an eligible institution, the DWO would enter it into the database, and then you can apply.
Do I have to scan the certificates and upload them into the system before forwarding the online application to the institute?
Yes. The system has the facility of uploading the scanned copy of the Certificates, like the Caste Certificate, Income Certificate, High School Certificate, and Handicap Certificate (if any).
Do I have to submit all the documents along with the printout of the application?
You have to submit the original caste certificate, basic income certificate, copy of high school certificate, copy of the first page of bank passbook (showing IFSC code of bank and bank account number), and handicap certificate (if any). Application letter. The institute will verify the original certificates and return them to the students.
Mahindra All India Talent Scholarship, (MAITS) 2023