PTE Exam 2021-22: PTE is also known to be the Pearson Test of English. A person who is interested to study abroad or who gets a job in a foreign country can apply for PTE Exam. PTE exam is a computer-based entrance exam, The entrance exam allots 3 hours of time for the candidate can finish the test.The PTE Exam result will be declared within 48 hours and is accepted by several universities, colleges, and governments around the globe. PTE is also known to be the Pearson Test of English. The person who is interested to study abroad or who get a job in a foreign country can apply for PTE Exam.
What is PTE Exam?
Pearson Test of English (PTE) Academic is a computer based test which provides 3 hours to complete the exam. It is similar like a IELTS and TOEFL. The main aim of this test is that nonnative English speaker can apply for abroad study and it test Reading, Writing, Listening and speaking. The result is very quickly come out within 5 working days. The standard PTE Academic exam fee is Rs 11,271 + 18% GST which comes out to be Rs 13,300. In case you are booking for your exam late, the price of late booking is Rs. 14,089 + 18% GST which comes out to be Rs 16,625. PTE Academic Syllabus includes three sections – Speaking & Writing, Reading, and Listening. You get marked on these three sections and you get the PTE Academic total score as well. The total score is the sum of the scores in the three sections. The PTE exam is conducted round the year. So, the candidates who wish to take the PTE exam can schedule their test even 24 hours in advance. The PTE test is conducted at least 6 to 8 times a month throughout the year.
PTE Academic Score
PTE Academic is scored on a scale of 10 – 90 where 10 is lowest, with increments of 1 point. Graded on the scale, the score showcase the person's ability to read, speak, understand verbal instructions and write the English language. The scores are presented in a graph, giving an easy understanding of the candidate's core skills in the language as well as improvement areas. Students start the preparation with either joining a coaching center or simply signing up for free practice tests. What a student forgets is that, like any exam, even language proficiency exams have to be dealt with a methodology. Here are a few study tips that would help you perform in the PTE Academic Exam. It is, however, important to note that no amount of tips, tricks or tools can outwit the dedication and efficiency of practice. So, improve these skills and practice them over and over again to succeed.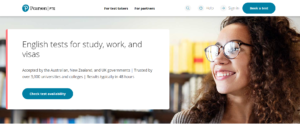 PTE Eligibility

In order to take the PTE Academic test, you must be at least 16 years old. If you are 16 or 17 years old, you get a parental consent form signed by either parents or guardian before taking the test.
PTE Exam Format (Reading)
The second section of the PTE Academic Test is the Reading Section and is usually 32 to 41 minutes long. Essentially designed to understand the candidate's ability to understand written instructions and language, the reading segment is further divided into five sections which include –
Fill in the blanks
Multiple choice questions

Re-order paragraphs

Fill in the blanks

Multiple choice questions
PTE Exam Format (Listening)

The final section of PTE Academic is the Listening section. Stretched over 45 to 57 minutes, the section is designed to ascertain the ability of the candidate to understand spoken English. The emphasis is on the ability of the student to retain the audio file played. The listening segment is divided into 8 parts, namely – Summarize spoken text
Multiple choice questions

Fill the blanks

Highlight the correct summary

Multiple choice questions

Select missing word

Highlight incorrect words

Write from dictation
PTE Exam Registration Process
Go to the official PTE Academic website https://pearsonpte.com/ and click 'Create your account'  

Enter your personal details as they appear on your Passport.

Once you have completed the online registration process, you will receive an email within two days informing you of your login details.  

Once you have your login details visit PTE Academic website. Click on 'Sign in' and enter login details. Then click on 'Schedule Exam'.

Select your desired test center according to your location.

Next, select suitable available date and time.

After confirming your location, date and time, you will be asked a few questions.  

Next, make full payment to finalize your booking.

On the completion of your booking, you will receive an email containing details of test center location, how to get there and important points to remember on the test day.  
PTE Syllabus For Both Speaking and Writing
This segment includes the test of two skills, which are the student's written and spoke abilities in the English language. The segment is divided into six smaller sections, and the time taken to complete this segment is usually between 77 to 93 minute long session. Here are the sections into which this segment is divided –
Read aloud Repeat sentence

Describe image

Re-tell lecture

Answer short question

Summarize written text Essay
PTE Exam Preparation Tips
Dadar and Nagar Haveli Scholarship 2021
Frequently Asked Question
How should a candidate prepare for this exam?
To acquire accustomed to the organization of the exam, use online display. Indeed the demonstration will facilitate you to perceive the structure of exam questions. Students can access the demo by clicking on this link: pearsonvue.com/ professional / demo. To prepare for exam material, study and practice your English skills in reading, writing, speaking and listening.
What will be the exam format?
There is a 3-hour long exam to check the writing, reading, speaking and listening skills of the candidate. There are twenty different questions ranging from multiple-choice, essay writing and understanding information.
Am I allowed to choose a particular subject for my exam?
No, the PTE exam is a test your English apprehending ability. The analysis covers a range of subjects but by the English language.
How to perform well in PTE written discussion?
Understand the depth of the subject in advance.
Carefully frame the structure.
Pay attention to sentence structure and punctuation.
Choose your words wisely.
Analyze yourself regularly.
PTE Exam Dates 2021, Format, Sample Papers, Preparation and Fee