NSP Renewal 2023-24: The students who had availed of scholarships listed on the National Scholarship Portal can renew their scholarships through the NSP Renewal process. Renewal is required to continue the scholarship for the rest of the course. The process of applying for a fresh application and the renewal of an old application is quite similar. The students have to fill in the required information on the portal to renew the scholarship. Check here for NSP Login Details. Video result for NSP Renewal PREVIEW 10:25 Apply for NSP Renewal Scholarship 2023-24 | National Scholarship Renewal 2023-24 Post Matric, MCM.
Login to your account AY 2023-24 Application Id is the same as last year Student Registration Id
Key Highlights for NSP Renewal 2023-24
National Scholarship Portal has been launched by the Ministry of Electronics and Information Technology, Government of India.
More than 80 scholarships are announced by the Government of India every year and are listed on this portal.
Students at the school level and college level can log in on the portal and look for the scholarship, as it provides scholarships for all levels. 
The main objective of the scholarship is to help the students from all categories. 
The process for applying for the scholarship is conducted online.
The scholarship is announced in various categories- Central Schemes, UGC/AICTE Schemes, and State Schemes.
NSP Renewal Process 2023-24
Follow these steps to renew your scholarship on the NSP Portal
Step 1: Visit the official NSP Portal website https://scholarships.gov.in/.
Step 2: Select the "Renewal" button for the academic year in the drop-down menu list under the login button.
Step 3: Enter your login information and captcha code.
Step 4: Fill in the required information and complete the renewal application and upload all the necessary documents.
Step 5: Submit the application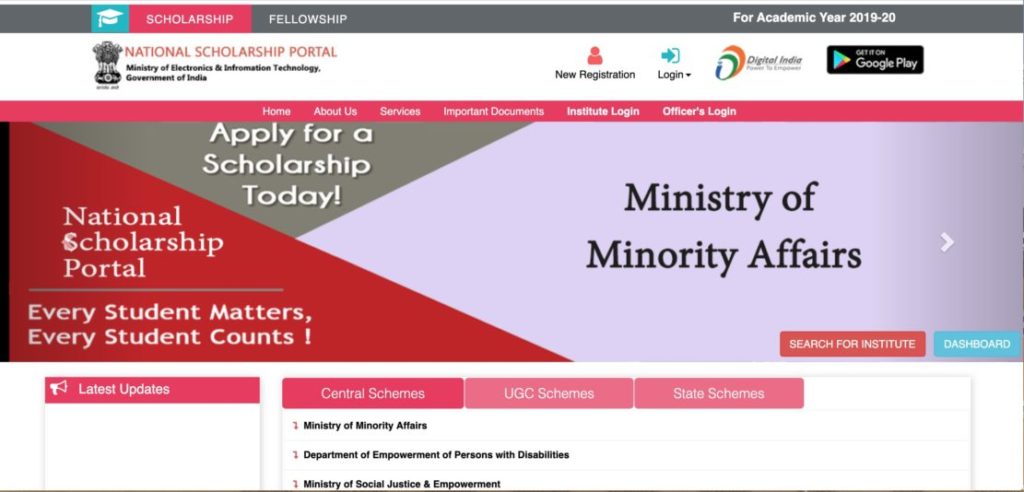 NSP Renewal: Important points
Always remember your Application ID as it will be required at the time of renewal.
If you have forgotten your password, then you can recover it by clicking on the "Forgot your password?" option.
If you have lost your application ID, you can restore it by clicking on the "Forgot your application ID?" option. For the recovering application ID, you will be asked to enter the bank details that you have submitted.
You can update the registered mobile number only once. 
If you want to update the mobile number, then click on the "Update Mobile Number?" option. 
Students who have to renew their application, need not apply for a fresh application, lest it will be rejected as a duplicate application. 
For students who want to apply for a new application, then the candidate must withdraw the renewal application to avoid rejection.
If the course for which the scholarship amount was disbursed, then the application cannot be renewed again.
NSP Renewal 2023-24 – Scholarship, Renewal Process and Timeline