NATA Exam 2021:- NATA 2021 It is known by another name which is the National Aptitude Test in Architecture. This examination is done under the Council of Architecture (COA). This examination is very much popular and discussed in India. Through this examination, all students get a good opportunity for architecture for admission in any college and institute. Bachelor of Architecture which is for 5 years. This test is taken twice a year in April and another is taken in the month of July. NATA scorecard is very much important in India in private and government universities and institutes due to which students can move closer to admission or get admission. Students who are preparing for this exam can submit an application form from January 2021. For this exam, all the students have to go to the online website and submit the application form. No other application form will be submitted. The sketching scale and drawing skills of all students should be very good and excellent for studying architecture. Half of your score for architecture studies gets in your sketch and drawing. Further details are given in the article below.
Important Date 2021 NATA Exam
In order to submit the NATA Exam 2021 application form, students will first have to see the eligibility criterion. Your application form will be submitted through the eligibility criteria itself.

To appear in this exam, students should have at least a 12th certificate, if there is a diploma with 50% marks.

In order to pass the exam and to do good marks, all the students are being asked to pay attention to their drawing scale and sketch scale.

After the last date of the application form, none of your application forms will be acceptable.

The exam is taken twice a year in the month of April and July.

The application form will start from your month of January.

The registration process will be cleared only when you submit your fee.

Admission to a 5-year B.Arch degree course, as prescribed by CoA.
NATA 2021 Examination dates
EXAM IN APRIL
| | |
| --- | --- |
| Events | Dates |
| Online application releasing date | 4th week of January |
| Closing date for an application form | 2nd week of March |
| Last date to clear the payment | 2nd week of March |
| Declaration of admit card date | 1st week of April |
| NATA Exam 2021 | 2nd week of April |
| Announcement of result | 1st week of May |
EXAM IN JULY
| | |
| --- | --- |
| Events | Dates |
| Online application releasing date | 4th week of January |
| Closing date for an application form | 2nd week of June |
| Last date to clear the payment | 2nd week of June |
| Declaration of admit card date | 4th week of June |
| NATA Exam 2021 | 1st week of July |
| Announcement of result | 4th week of July |
NATA 2021 Application Form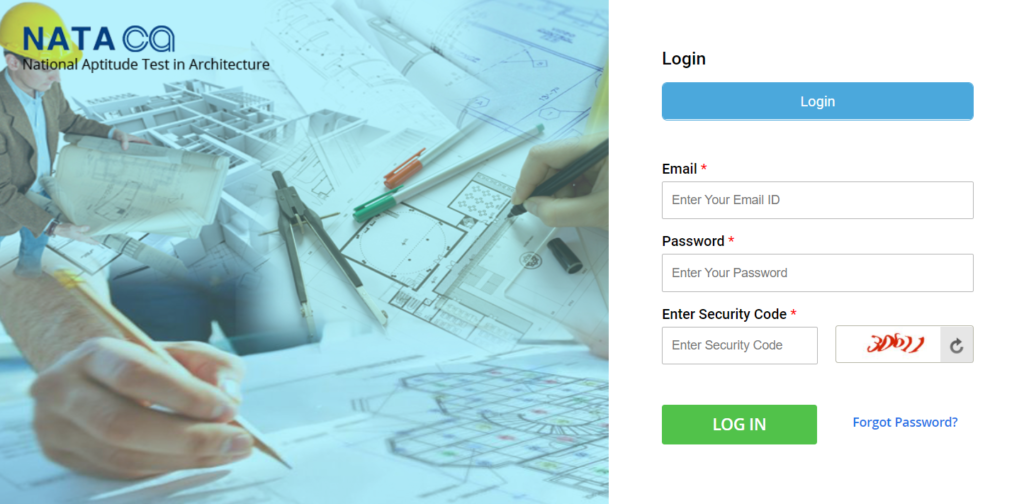 NATA 2021 Eligibility Criteria 
There is a restriction for age for NATA Exam 2021

Students who are in the final year or in the final stage can also apply for this application form.

Students should have at least a 12th class certificate with 50% marks.

In class 12, you should have Physics, Chemistry, Maths subjects required.
Students who are from the Arts stream can also apply but they will have to qualify PCM from CBSE.

If a student holds a diploma degree, that student is also eligible for this examination.
Exam pattern NATA 2021
NATA Exam 2021 will be taken through your online examination, you will be twice in a year.
In the second part, you can also take an offline exam.
To finish the exam you will have 3 hours i.e. that you have to finish the exam within 3 hours.
You will be asked 200 marks in the exam paper.

In the exam, you will have two parts, one will be the aptitude section and the other will be drawing section you will be asked questions in the aptitude section, in the drawing section you will be asked to make sketches.

You will get two marks for each correct answer.

The medium of question paper will be English.

There is no negative marking in this exam, that is, your marks will not be deducted by giving wrong answers.
NATA 2021 Syllabus
| | |
| --- | --- |
| Mathematics | Mathematics will include questions from Logarithm, Algebra, Coordinates Geometry, Trigonometry, Dimensional Co-ordinate Geometry, Application of Calculus, Statics and Probability, Sets and Relations, and Mathematical Reasoning, etc. |
| General Aptitude | Questions will be asked from the topics i.e. General reasoning, Interpretation of pictorial composition, general awareness, texture related to architecture and built environment, etc. |
| Drawing Test | Syllabus of drawing test will comprise topics like Generating Plan, common objects like furniture, etc., Geometrical compression, shapes, building forms, and elements, drawing of patterns for both abstract and geometrical, form transformation in 2D and 3D etc. |
Application form NATA 2021
Students who are studying for this exam, who are preparing for this NATA Exam 2021, can submit the application form from the month of January. The application form will be submitted through your online medium before submitting the application form to check the Eligibility Criteria because the application form will be accepted through your eligibility criteria. At the time of submission, you will keep your ID card, voter ID card, address proof, with you and after submitting the application form, you will submit the registration fee, because by how long the registration fee will not be deposited, your application form will not be extended for further processing. The application form will be submitted before the last date because after the application your application form will be canceled, your application form will not be accepted for any reason.
How to download the Application?
First of all, students have to visit the official site. (Click Here)

After visiting the official site, all the information on one is being shown and related to the admission.

If you face any problem related to the application or registration, you can go to the inquiry section on the official site and know the answer to your question.

Go to the official site and click on the application form of January at 2021.

Fill all the information asked for accurately and without mistake.

After filling the application form, upload the scanned photo and scanned signature as well.

Attach and upload the document you are asking for based on the application.

The documents that are being asked based on the application are to be attached and uploaded with the application form.

After filling all the information, check once again that there should be no mistake.

Now submit your registration fee. The registration fee will be taken according to your category. To submit your application fee according to the category.

After a successful fee summit, take out your fee receipt and get your ID card.
Application Fees for NATA Exam 2021
APRIL
| | |
| --- | --- |
| Category | For 1 attempt |
| General Category | Rs. 1800 |
| For SC/ ST Category | Rs. 1500 |
JULY
| | |
| --- | --- |
| Category | For 2 attempts |
| General Category | Rs. 3500 |
| For SC/ ST Category | Rs. 2800 |
NATA 2021 Admit card
Admit card will be received through your online, which takes so long to arrive, 1 week before the exam starts, you start receiving the admit card. No students are allowed without the admit card at the exam center. In order to download the NATA Exam 2021 admit card for entry, all students have a password at the time of registration and their registration number is With both the thing can download the admit card online. Admit card is very important for you. Without the admit card, you cannot sit in any examination. After your examination is over, you have to keep your admit card till the last date of admission because the hall ticket can be required anytime. The NATA Exam 2021 is divided into two parts, ie the students of April will start receiving the admit card 1 week before the start of their exam, while those who are going to give the exam in July will start getting the admit card before their exam.
NATA 2021 Results
Result card will be received through your online, your NATA Exam 2021 results will be made in the basis of the performance of the students, the results of both sections will be received on different dates, all students have the admit card to download the result. In which their roll number is given date of birth, they can see their result from the roll number and date of birth, which students will qualify in the examination. It has been announced by the exam authority that your result will be shown in two parts, the students who pass will be written in front of their names, the students who fail will be shown fail in front of their names. They can proceed to the Bachelor of Architecture program. Those students who qualify in the exam will be called in the NATA Exam 2021 counselling. All students will have to take their documents before going to counselling, without the document, you will not be allowed to sit in counselling. In counselling, you will ask for some activity and some questions in interviews. After crack on the counselling, they will be told where your colleges and institute is, where you will get the admission. All the information related to the admission will be known only after the counselling procedure.
NATA 2021 Examination centre
City

City

Port Blair

Amravati

Guntur

Ahmednagar

Kakinada

Aurangabad

Kurnool

Jalgaon

Rajahmundry

Kolhapur

Tirupathi

Mumbai

Vijayawada

Nagpur

Itanagar

Navi Mumbai

Dibrugarh

Nashik

Guwahati

Pune

Silchar

Imphal

Bhagalpur

Shillong

Gaya

Aizawl

Muzaffarpur

Dimapur

Patna

Kohima

Chandigarh

Bhubaneswar

Bhilai

Cuttack

Bilaspur

Rourkela

Raipur

Sambalpur

Vellore

Ranchi

Hyderabad

Bengaluru

Warangal

Gulbarga

Agartala

Hubli

Agra

Mangalore

Allahabad

Mysore

Bareilly

Udupi

Ghaziabad

Kannur

Greater Noida

Kozhikode

Jhansi

Ernakulam

Siliguri

Dubai

Puducherry

Panaji

Amritsar

Ahmedabad

Bhatinda

Gandhinagar

Jallandhar

Rajkot

Ludhiana

Surat

Mohali

Vadodara

Patiala

Ambala

Ajmer

Faridabad

Bikaner

Hisar

Jaipur

Sonepat

Jodhpur

Hamirpur

Udaipur

Gurgaon

Kota

Shimla

Gangtok

Jammu

Chennai

Srinagar

Coimbatore

Bokaro Steel City

Madurai

Dhanbad

Salem

Hazaribagh

Tiruchirappalli

Jamshedpur

Kanpur

Kottayam

Lucknow

Thrissur

Moradabad

Trivandrum

Meerut

Bhopal

Muzaffarnagar

Gwalior

Noida

Indore

Varanasi

Jabalpur

Dehradun

Ujjain

Haldwani

Roorkee

Asansol

Durgapur

Howrah

Kolkata

Delhi
Frequently Asked Questions (FAQs)
Who can apply for NATA?
All candidates who have passed in Physics, Chemistry and Mathematics with at least 50% aggregate marks and 10 + 2 level examination have total 50% marks; OR Passed the 10 + 3 Diploma examination with Mathematics as a compulsory subject with at least 50% marks in aggregate marks and 5 years are willing to apply for the first year of B.Arch. The degree course may appear for NATA 2021. In the current year, 10 + 2 test takers along with PCM subjects can also appear for the test tentatively, however, their result in NATA-2021 will be declared as valid subject to fulfilling the above criteria. Please see the detailed eligibility criteria in the NATA 2021 brochure.
What is the fee for the exam?
The fee for the first or second examination will be Rs. 800 / – (bank charges included). If the candidate wants to appear for both tests, he will deposit Rs. 3500 / -. Candidates belonging to SC / ST category have to deposit Rs 1500 / – for the first or second test to appear in both examinations. Candidates desirous of appearing in examination centers outside the region of India will have to deposit Rs.1,00,000 / – for the first test and Rs.18,000 / – to appear in both the tests.
What are the total marks for the exam?
The test will be of 200 marks. Part-A will consist of Mathematics (MCQ) – 40 marks and general qualification carrying 80 marks. Part-B will consist of drawing paper which carries 80 marks.
Where can I take the exam? When will we know the details of our testing center?
The details of the test center for each candidate will be provided in their admit card. The admit card will be available for download from 1 April and 24 June for July. The location of the city, the testing center will be based on the choices given by the candidate during online filling. However, it is the discretion of the council to allocate the examination center for the smooth conduct of the examination.
Why should I report two and a half hours before the exam?
The registration process of a candidate at the center involves verifying the identity of the candidate; The candidate is taking biometrics and a webcam photo before being allotted a seat at the examination center.
If I attempt both exams in April and July, which score will be considered final?
If candidates appear for both tests, the score will be considered the best of the two test scores for a generation. Otherwise, only one test score will be considered.
How can a candidate get admission in B.Arch? Once he/she passes NATA?
After passing the NATA, candidates are required to apply the 5-year B.Achch in various institutions approved by the Council along with their scorecard. Degree courses across the country. The actual admissions will be done by the respective competent admissions, counseling officers of the respective states, universities, institutes as per the eligibility criteria set by the council.
Which documents should I upload online at the time of registration?
a. Recent passport size photos in color
B. Own signature documents must be in jpg, jpeg format.
Please see the brochure for more specifications on www.nata.in.
NATA Exam 2021, Dates Eligibility, Exam Pattern