Higher Secondary Minority Scholarship Gujarat 2021:- This Scholarship is given to 11th class students and students of Class XII. It is for the good future of their studies basically those who belong to the minority community. The scholarship is given to the students which are an authority by the Department of Social Justice and Empowerment, Government of Gujarat.  This is a famous, institution that is practice hard to fulfill the motto "Beti Bachao, Beti Padhao " by offering a scholarship to the girl's students. the university has recently announced "Shobhit University Girl's Scholarship For Higher Education". It assures that candidates of all girls are given a mental and emotionally healthy learning environment.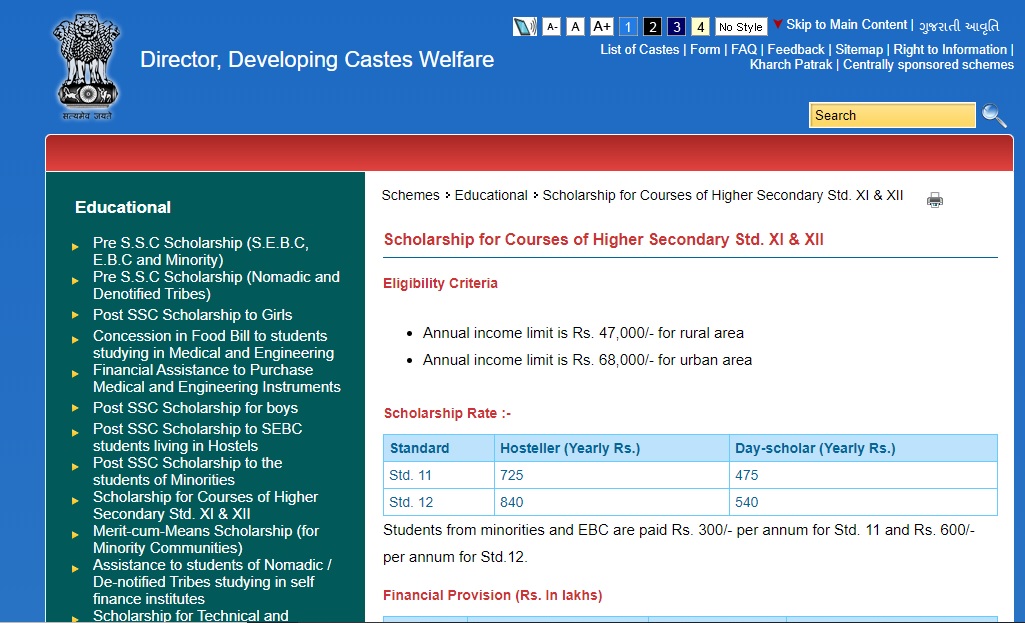 Benefits of Minority Scholarship Gujarat
Those applicants get the scholarship they will get benefits:-
Students those who stay in hostels they will give scholarship amount Rs 725 per annual as well as days scholars will get also Rs 475 annual.

Applicants who studying in 12 standards will be given scholarship amount Rs 1140 annually for hosteller candidates and day scholars will receive Rs 840 annually.
Important Dates Of Application Form
The application form distributed in the month of November 2021

The last date for submitting the application form in the month of February 2021
Eligibility Criteria for Minority Scholarship Gujarat
Before applying for scholarship students must ensure the eligibility criteria
Candidates should belong to the minority community.

The family income of students is not more than  Rs 1.50 lakhs.

The scholarship is given to the Gujarat Bonafide candidates.

Students have to get a maximum of 50% marks to qualify for the examination.

Only girls students can apply for the scholarship.

This scholarship is given to the students pursuing the 11 standard and 12 standards.

Students can not get this scholarship if she already has another scholarship.

The course duration is about four years after that students will be given a 20% amount of scholarship for four years.

The scholarship will be disconnected if applicants get back or fail in any examination.
How To Apply Higher Secondary Minority Scholarship Gujarat
The scholarship will be released on the official website, Students can access the form by online mode, and all applicants are requested to submit their application forms before the last date, after the last date they will submit the application, the application form will not be accepted.
The scholarship of application will be available on the official website.

Students have to fill the form by online mode

After that click on the registration form which is available on that page

Fill all details that ask in your application form.

Upload all documents scan photograph signature and attach it with your application form.

Before the submission application form please check all the details

Most important things students must have to give their email ID.

After that submit your entire document along with application form.

At last, students have to take some photocopy of that application form and keep it for your future use.
Some documents should be needed for the scholarship
Fee receipt

Caste certificate

Aadhar card

Pan card

12th mark sheet

10th mark sheet

Transfer certificate

Last year result card

Hostel certificate

Disability card
Selection process
The students who are entitled to scholarships will be given only to that person. Those students who have done a good performance in last year's examination will be given this collaboration and for further information, students are requested to visit the official website click here.
Frequently Asked Questions (FAQ)
If the phone number is not linked to the Aadhaar card, can I give it to that phone number?
It does not matter whether your phone number is linked to the Aadhaar card or not, but your Aadhaar card is necessary to get the scholarship as the Aadhaar card is linked to your bank account.
Can I give my father's bank details?
No, students who are implementing for scholarship inclination will have to open a bank account in their name, if they have a bank account in their name. They have to give bank account details with the IFSC code. No other accounts are enabled for your scholarship.
I would like to know when scholarship forms will be available for engineering students?
Online applications have been invited for the minority scholarship in Gujarat for the year 2021. The last date for submission of online applications by students is 15 December 2021.

Minority scholarship Gujarat is a scholarship to enable eligible students who have passed the 10th standard (SSC examination) to pursue post matriculation studies such as 11th, 12th, ITI, polytechnic, vocational courses by the welfare departments of the government Is given to students. Undergraduate and postgraduate courses, Ph.D., etc.
Higher Secondary Minority Scholarship Gujarat 2021 SEBS, OBC, SC,ST Scholarship Gujarat