Kiran Girls scholarship is one of the flagship programs announced by the Persistent Foundation. The main aim of this program is those girls students who are pursuing Computer science, IT, and Bioinformatics. The scholarship is done based on student economic condition and study performance. Counselor of Persistent mentor every candidate. Any candidates who are pursuing their studies in computer science, information technology, and M.Sc Bioinformatics can apply for the same. The Scholarship is given to 40 selected girls.
Interested & eligible candidates should fill up the application form & commit the same on or before 15th February 2021.
Final list of selected candidates will be declared by the 30th March 2021.
Kiran Girls Scholarship 2021
Kiran Girls Scholarship is available for all those girls pursuing their Bachelor's and Master's degree in Computer and Information Technology fields. These include B. E./ B. Tech in Computer Sciences/ Information Technology, M. Sc. in Computer Sciences/ Bioinformatics/ MCA, etc. This Kiran Scholarship 2021 is given to the selected 40 girl students.
Persistent Foundation Kiran Girls Scholarship – About
The selected girls will be provided with an amount of Rs. 40,000 per year at the end of their graduation completion. This amount will be provided to the selected candidate for a maximum of 4 years in the case of B. E./ B. Tech. and 2 years in the case of M. Sc.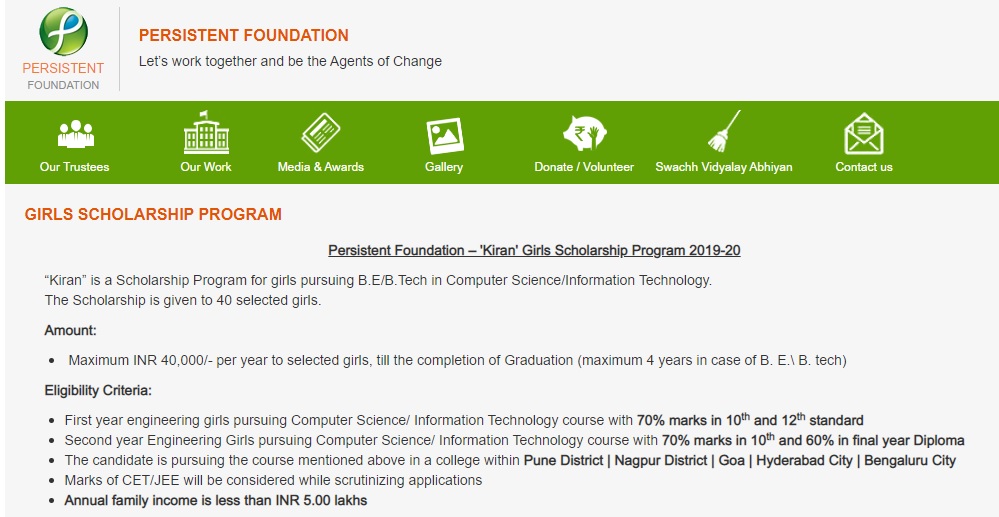 Eligibility Criteria For Kiran Girls Scholarship
1st-year girls pursuing engineering should secure an aggregate of 70% marks in their class 10th and 12th.
For second-year girls pursuing Computer Science/ Information Technology courses, they should score an aggregate of 70% marks in class 10th and 60% marks in the final year diploma.
Girls studying in the first year of MSc Bioinformatics, MSc Computer Science and Master of Computer Application [MCA], should 70% marks in class 12th and 60% marks in their graduation.
The applicants studying in the above-mentioned courses should be a student of college within Pune District, Nagpur District, Goa, Hyderabad City, and Bangaluru City.
The applicant's annual family income should not exceed Rs. 5,00,000 per annum.
 Application and Selection Procedures for Kiran Girls Scholarship
Interested applicant should fill-up the form before Last Date.
The shortlisted candidates will be called for the next round, i.e. test or interview.
By the end of October, the final list of the selected candidates will be out.
NOTE
If the candidate scores an aggregate of 55% marks in the previous year of their pursuing course, the continuation of the Scholarship shall be allotted.
The prescribed attendance is mandatory for the continuation of the scholarship.
Internshala Career Scholarship
Kiran Girls Scholarship | Persistent Foundation Eligibility, Form