Kingston University Scholarship 2023 has offered under the GREAT scholarship campaign, in collaboration with the British Council, the Kingston University has announced a scholarship for Indian students. The university provides 10 scholarships each worth £3,000 (around 3 Lakh) to Indian students for doing Postgraduate courses. The sessions are starting from September 2023. 31st May 2022 is the deadline for the submission of an application for the Kingston University Scholarship for Indian students.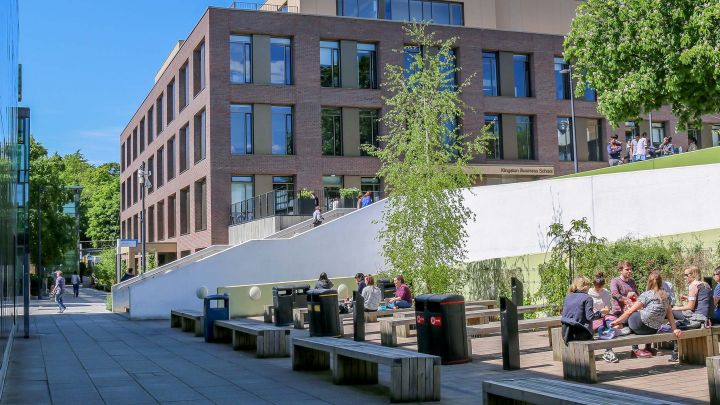 About: Kingston University London is a public research university located within the Royal Borough of Kingston upon the Thames, in South West London, United Kingdom. The university specializes in the arts, design, fashion, science, engineering, and business.
Kingston University Scholarship for Indian students
Every year, the Kingston University Scholarship for Indian students gives a total of £200,000 (about Rs 2 crore), with each foreign scholarship valued £3,500 (approximately Rs 3.5 lakh). These are available to prospective full-time undergraduate or postgraduate students at Kingston University in any discipline.
Kingston University Scholarship for Indian students is available for the academic sessions which will begin in September as well as in January.
For the sessions starting in September 2014, the deadline for submission of application is May 31. And for the sessions starting in January, the deadline for the submission of the application is November 16.
Courses Offered Under The Scholarship
University offers the following international scholarships (September intake only):
M.A. – Marketing and brand management
M.sc- Managing in the creative economy
M.sc- International business management
M.A.- Filmmaking
M.A.- Communication design:              Graphic design
M.A.- Architecture
M.A.- Publishing
M.sc- Management in construction
M.sc- Aerospace engineering
M.sc – pharmaceutical analysis
Kingston University Scholarship Eligibility
Eligibility for filling the application form of Kingston University Scholarship for Indian students is that the student should hold an Indian passport and should be domiciled in India. Also, the Indian student should have an offer of a place on any of the 10 courses at Kingston for September 2014 and is not currently registered on an undergraduate or postgraduate course at Kingston University.
There are over 60 international scholarships provided by Kingston University's international office to encourage academic excellence, support a diverse student population and thus helping the deserving students to opt their desire carrier by enabling them to study the course of their choice. There are many undergraduate and postgraduate scholarships provided by Kingston University for Indian students.
How To Apply In Kingston University Scholarship
The students should first apply for a course at Kingston University and after holding an offer of a place on the course students are invited to make a separate scholarship application online on the Kingston University web site for getting a scholarship under Kingston University Scholarship for Indian students program.
Official Link To apply :
http://www.kingston.ac.uk/international/scholarships-and-fees/scholarships/international-scholarships/
Frequently Asked Questions (FAQs)
What is a transcript?
A transcript is a list of all the modules you have taken and the marks obtained when you do your first degree.  If your institution provides a Higher Education Achievement Report (HEAR) instead of an academic transcript, you must provide access to your electronic records. If you do not have a transcript, please contact your university as soon as possible and ask them to send you a copy of your transcript.
Where can I get an application ID for the Kingston University Scholarship?
When the students receive the offer letter, they will also get the applicant ID in the same letter. Students have to mention their applicant Id in the scholarship application form. We will not consider any applications that do not contain this number.
Who decides and how will I find out the result?
The scholarship committee decides the award. Once a decision has been made, successful applicants will be emailed to inform them of the result. A large amount of applications means that we will not contact unsuccessful students. Please note that the committee will not participate or participate in any personal correspondence with applicants before or after making a decision.
Kingston University Scholarship 2023 for Indian students