Undergraduate or Graduate Scholarships in order to be considered for one of those awards, applications will NOT be automatically transferred. You will be able to import your application information and documents directly into the Undergraduate or Graduate application. Just click on the link for the appropriate scholarship and look for the import button on the top right of your dashboard.
Scholarship amount details
Max scholarship per student: USD 5,000 => Rs 3,68,800
Conversion rate used: 1 USD = Rs. 74.39 (last updated 20th January 2022)
Scholarship amount will be given: One Time
APPLICATIONS WILL OPEN 15 NOVEMBER 2021 AND CLOSE 28 FEBRUARY 2022 AT 11:59 PM EST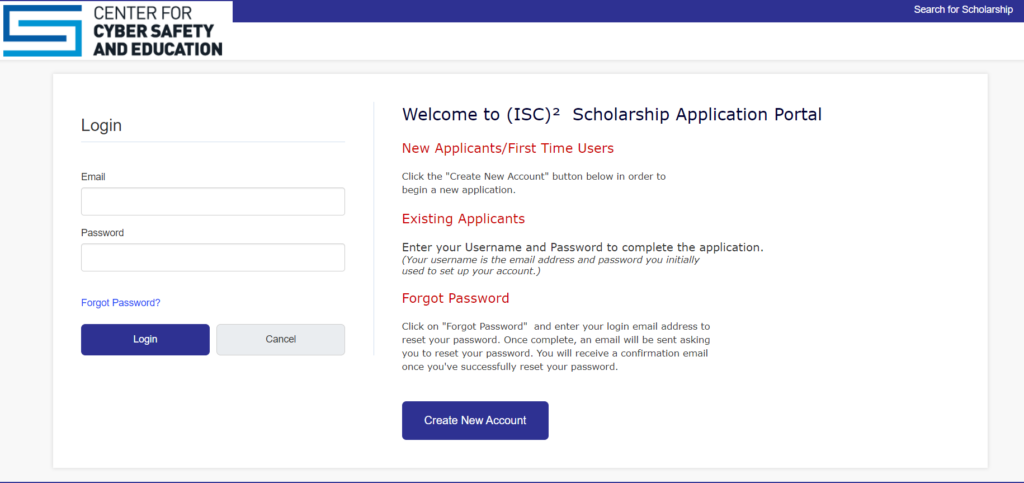 Women in Information Security Scholarship Highlight
Title
(ISC)² Women in Information Security Scholarship
Reward Amount
$8,000
Last Date To Apply
April 15, 2021
Address
Carole Boniface
311 Park Place Blvd.
Suite 610
Clearwater, FL 33759
Email Id
scholarships@isc2.org
Website
iamcybersafe.org
Contact Number
727-493-3587
Official Link To Apply

Click Here
ISC² Women's Scholarship Eligibility Criteria
Must be pursuing, or plan to pursue, a degree with a focus on cybersecurity or information assurance."
You may be a senior in high school, an undergraduate student, graduate or post graduate student to be eligible."
GPA must be at least 3.3 on a 4.0 scale (or an analogous rank based on a comparable scale).
You may be a citizen of any country (US citizenship not required).
May be attending on campus or online.
May be attending full time or part time
May be attending in the US or Internationally
You do not currently need to be enrolled, however no awards will be disbursed until the recipient is enrolled in a college or university.
If awarded: the funds will be sent to the school with instructions that it be applied to tuition, fees and books.
Scoring Criteria
Applicants Will Be Scored By Members Of (Isc)² And Scholarship Sponsors (If Applicable). Scoring Will Be Based Upon Three Categories:
Passion
Merit
Financial Need
NOTE: Not all applicants will receive a scholarship. Scholarships are a one-time award and must be re-applied for each year in order to
Important Dates
| | Date | Additional Details |
| --- | --- | --- |
| Application start date | November 15, 2021 | Not Available |
| Application final end date | February 28, 2022 | Application deadline: February 28, 2022, at 11:59 PM EST |
| Award Notification | Not Available | Award/No Award notifications will be emailed in June 2022 |
Please note that these dates could be in local country times and may not be IST (Indian standard time).