Digital Gujarat Scholarship: The Complete List 2023:  Students pursuing mid-level study will receive a scholarship of INR 2,000 / – per month. graduate-level students will get the number of fellowship INR 3,000 / – per month. Number Fellowship will be awarded to students of graduate-level is INR 5000 / – per month. The government has included Digital Gujarat Scholarships of several kinds to help out the poor people.  Here we provide complete details of the scholarships available on the Digital Gujarat Portal.
Gujarat Fellowship scheme for M.Phil and Ph.D 2023 
The M.Phil and Ph.D. fellowship or Scholarship is for economic welfare and empowerment for those students and researchers who belong to the backward section. It is being offered by the Department of social justice and Empowerment, the government of Gujarat. A fellowship or Scholarship are established by a university, a research center, laboratory, a government or a foundation. But the fellowship is only a status of some universities research institute, it didn't include financial support to the students.
Eligibility for Digital Gujarat Fellowship scheme for M.Phil and Ph.D.
The eligibility of getting a fellowship or the Gujarat Scholarship totally depends on the universities. But the minimum qualification for the M.Phil and Ph.D. students is a Masters Degree. The students must have at least 55% marks in post-graduation. And the most compulsory part is the student must have enrolled in M.Phil and Ph.D. Course. because without registration for M.Phil and Ph.D. by qualifying exam such as UGC NET JRF, etc. The students must belong to SC category to get a fellowship. Candidate should be pursuing M.Phil and Ph.D. degree program. A student must have a family annual income of fewer than 2 lacs from all the sources.
Benefits Of The Gujarat Fellowship
The student who is pursuing MPhil program will receive 2500 per month for their research.
The students who are pursuing a Ph.D. program will receive 5000 per month for their research. The student will get paid for a monthly basis which is continuously for a year.Gujarat government offers a variety of scholarship programmes to help financially disadvantaged students. Students from the reserved category who are permanent residents of Gujarat can apply for the scheme online. 
How can I apply Gujarat Fellowship Scheme for M.Phil and Ph.D. SC Students?
1. Candidate can apply for Scholarship or fellowship of Mphil and Ph.D. are as follow- 1. First login the website www.digitalgujarat.gov.in apply for the scheme.
2. Click on Click here "Click for New Registration" button for registration.
3. Fill all the required details of the candidate and registered.
4. Once you registered login the registered email ID and password.
5. Fill the Scholarship or fellowship form and upload all the required documents.
6. And finally, submit the application form.
7. The processing mode of payment mode should be online.
Note:-
* The candidate will get all the status of their application form through SMS.
* The student need not go anywhere or any center to verify their documents.
Documents that are Required for Gujarat Fellowship Scheme
* Self-attested caste certificate issued by the authority.
* First page of bank passbook and canceled cheque.
* Self-attested copy of Aadhar Card
* Income certificate.
* School leaving certificate
* Marriage certificate (if available)
* Class 10,12, graduation and Post- graduation certificate and mark sheet.
* Thesis printing bill receipt.
Some of the following lists for M.Phil and Ph.D fellowship in India are:-
Junior Research Fellowship in Engineering & Technology.
Junior Research Fellowship in Science, Humanities and Social science.
Research Fellowship in Science for meritorious students.
National fellowship for scheduled caste students.
Post Doctoral fellowship to Sc/ST candidates.
Raman fellowship for Post Doctoral Research for Indian Scholars in the USA.
Post-Doctoral Fellowship to Women Candidates.
Kothari Post-Doctoral Fellowships in Sciences, Medical Sciences & Engineering Sciences.
Dr. S. Radharkrishnan Post Doctoral Fellowship In Humanities And Social Sciences.
National Fellowship for OBC Candidates.
National fellowship for persons with disabilities.
National fellowship for Higher Education of ST students.
Click here to apply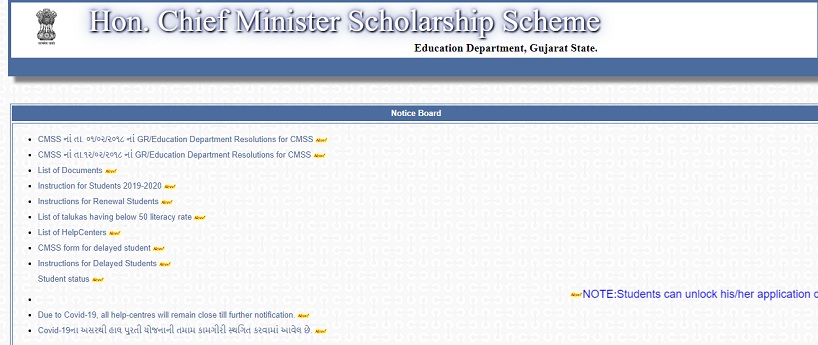 Digital Gujarat Frequently Asked Questions (FAQ)
Who can apply online under this scholarship scheme?
Bonafide students of the state of Gujarat, within the state or outside the state, within India, specific guidelines for holding valid Aadhaar (UID) credentials and completing the scheme are eligible to apply under these scholarship schemes.
Is there any Application ID?
Yes. Once the application form is registered, the candidate will be provided with an ID, which will be communicated to the candidates through SMS and e-mail. Students should note their Application ID as it will be needed in the future.
The steps for a scholarship are given as under
1. Apply online for a scholarship through the Digital Gujarat Portal
2. Verification by the college/school principal
3. Scrutiny by the department Officer
4. Sanction of the scholarship
5. Submission of the bill online to the treasury
6. Sanction of the bill and deposit amounts into student bank accounts
If I am a student of an institute based outside Gujarat, how can I apply for the scholarship?
Fill your application online on the Digital Gujarat portal and submit the filled application along with all the documents mentioned on the portal of the district concerned officer of the student's parent district.
Digital Gujarat Fellowship Scheme 2023 for M.Phil and Ph.D. Students