What's new about the U.S. Fulbright Program? The2024-25 completion deadline is October 10, 2023, at 5 PM Eastern Time. Interested students need to visit the official website to apply.
The Fulbright Scholarship stands as a highly enriching educational grant that fosters exchange between the United States and participants from around the world. This opportunity is open to graduate students, artists, and emerging professionals across various disciplines, excluding medicine. Individuals from over 155 countries worldwide have the chance to pursue studies in the USA for a minimum of one year, courtesy of the Fulbright scholarship. Successful recipients of this scholarship are granted comprehensive financial support, encompassing tuition fees, a sustenance allowance, and travel expenditures.
About U.S. Fulbright Program
The US Fulbright program has partnerships with more than 100 countries. This programme offers unparalleled opportunities to all young and passionate students (graduating college seniors, graduate students, young professionals) from all backgrounds to do graduate study, conduct research or teach English abroad. Students who are offered, U.S. Fulbright are known as Fulbrights. During their tenure abroad as a Fulbright, they are required to meet, work, live and learn from the host country. They also share daily experiences. The US Fulbright program expedites cultural exchange and diversity. This programme provides plethora of opportunities for students to engage in various forms of cultural exchange, research, teaching, and collaboration with individuals and institutions in other countries.
The Fulbright Program is administered by the U.S. Department of State's Bureau of Educational and Cultural Affairs (ECA), under the guidelines laid down by Fulbright Foreign Scholarship Board. US Fulbright programme operates in over 160 countries worldwide. The selection process is highly competitive and involves rigorous application reviews, interviews, and evaluations. We will learn more about the eligibility criteria, application process, and selection criteria in the below section. Also, to know about the applicants of U.S. Fulbright program, please visit the official website and click on 'I AM' button on the right side. To promote the essence and mission of Fulbright, there are various outreach partners. If any institution/organisation is interested in partnering with the Fulbright US program, reach out to FBSStudent@iie.org. More information is available on the official website of US Fulbright Program.
U.S. Fulbright Program Eligibility Criteria
Candidates interested in applying for U.S. Fulbright Program need to make sure that they are fulfilling the eligibility criteria. Meeting the eligibility criteria is the foremost important step in the process. Only eligibile candidates will be considered for application submission. Kindly refer the below points to know about the eligibility criteria.
Citizens or nationals of the United States of America at the time of the application deadline are eligible. Permanent residents are not eligible.
Candidates must hold a relevant bachelor's degree before their grant period.
Candidates are required to meet the language requirements. He/She must be familiar and proficient with the language of the Host Country.
Aspirants must hold a J.D.
Aspirants may not apply to the Fulbright U.S. Student Program and the Fulbright Scholar Program in the same competition cycle.
Aspirants may not apply for more than one Fulbright U.S. Student grant in each competition cycle.
Note – Above mentioned points are the basic eligibility criteria. For complete eligibility criteria, kindly refer to the official website (https://us.fulbrightonline.org/about/eligibility)
U.S. Fulbright Program Application Process
Interested candidates must refer to the below step-by-step process to apply for U.S. Fulbright program.
Step 1 – Aspirants need to meet the eligibility criteria. The same can be confirmed by visiting the link given in the eligibility content above.
Step 2 – Before filling the application, candidates must determine the applicant type. If a student is enrolled in a UG or graduate course, he/she is strongly encouraged. If you are not currently studying, you may also apply via your alma matar. Otherwise, all the applications will be considered as At-Large applicants.
Step 3 – After that, candidates are required to select their award type – Study/Research Awards, ETA Awards, Fulbright- Fogarty Fellowhsips in Public Health.
Step 4 – Candidates are requested to review their country options.
Step 5 – Start the Application. Application is open annually from early April – mid-October. Applicants applying through an institution will submit by their campus deadlines, prior to the national deadline.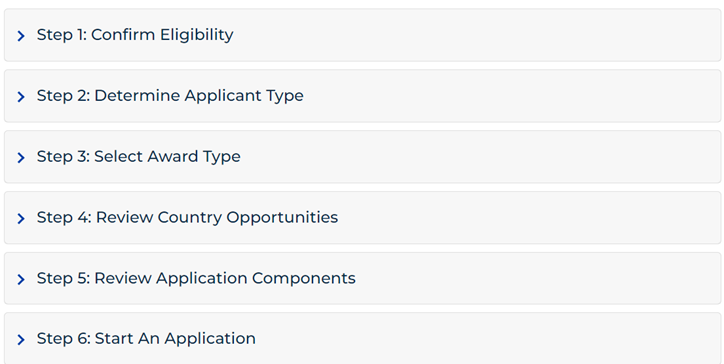 U.S. Fulbright Program Countries
Continents that are available for the U.S. Fulbright Program are East Asia Pacific, Europe and Eurasia, Middle East and North Africa, South and Central Asia, Sub-Saharan Africa and Western Hemisphere. Candidates from these continents are eligible to apply for the US Fulbright Program. Please refer the below table for countries:
East Asia Pacific:
Australia, Brunei, Cambodia, Indonesia, Japan, Laos, Malaysia, Mongolia, New Zealand, Papua New Guinea, Philippines, Singapore, South Korea, South Pacific Island Nations, Taiwan, Thailand, Timor – Leste and Vietnam
Europe and Eurasia:
Albania, Andorra, Armenia, Austria, Azerbaijan, Belarus, Belgium, Bosnia & Herzegovina, Bulgaria, Croatia, Cyprus, Czech Republic, Denmark, Estonia, European Union, Finland, France, Georgia, Germany, Greece, Hungry, Iceland, Ireland, Italy, Kosova, Latvia, Lithuania, Moldova, Malta, Luxembourg, North Macedonia, Netherlands, Montenegro, Norway, Poland, Portugal, Romania, Norway, Romania, Russia, Serbia, Slovak Republic, Slovenia, Spain, Sweden, Switzerland, Turkey, Ukraine and UK.
Middle East & South Africa
Algeria, Bahrain, Egypt, Israel, Jordan, Kuwait, Morocco, Oman, Palestinian Territories, Saudi Arabia, Tunisia, and United Arab Emirates.
South & Central Asia
India, Kazakhstan, Kyrgyzstan, Nepal, Sri Lanka, Tajikistan and Uzbekistan.
Sub- Saharan Africa
Benin, Botswana, Cameroon, Congo (Brazzaville), Cote d'Ivoire, Eswatini, Ethiopia, Ghana, Guinea, Kenya, Lesotho, Madagascar, Malawi, Mauritius, Mozambique, Namibia, Nigeria, Rwanda, Senegal, Sierra Leone, South Africa, Tanzania, Togo, Uganda, Zambia and Zimbabwe.
Western Hemisphere
Argentina, Barbados and the Eastern Caribbean, Bolivia, Brazil, Canada, Chile, Colombia, Costa Rica, Dominican Republic, Ecuador, EL Salvador, Guatemala, Honduras, Jamaica, Mexico, Panama, Paraguay, Peru, Trinidad & Tobago and Uruguay.
Fulbright Outreach Partners
Fulbright has various outreach partners and these are minority-serving organisations and professional institutes. All the outreach partners assist in promoting the US Fulbright Program. These outreach partners work in tandem with the mission of US Fulbright.
The mission of the Fulbright is to foster mutual understanding between US and partner nations, sharing knowledge and changing lives for the better. Fulbright outreach partners are tabulated below:
| | |
| --- | --- |
| Boren Awards | Diversity Abroad |
| Critical Language Scholarship Program | Benjamin Gilman International Scholarship Program |
| Congressional Hispanic Caucus Institute CHCI | Hispanic Association of Colleges and Universities (HACU) |
| Mobility International USA (MIUSA) | National Collegiate Athletic Association (NCAA) |
| Phi Theta Kappa | The Posse Foundation |
| Public Policy and International Affair Fellowship Program | Reach the World |
| SEO | Thurgood Marshall College Fund |
Everything About U.S. Fulbright Program