Development Solutions Masters Scholarship 2021 was established in 2001. Make a difference to the development of your home country with our Developing Solutions masters scholarship, covering 50% or 100% of tuition fees. Development Solutions owner to post-graduate courses at the University's main international scholarship program in Nottingham. The Scholarship Fund to find a solution which is to prove a big difference for the potential development and prosperity of their home countries will be approached for the students. The University of Nottingham offers the Development Solutions Masters Scholarship, which offers 105 fee waivers for students.
Application deadline: Friday 1 May 2021
Who gives a Development Solutions Masters Scholarship?
The University of Nottingham in the United Kingdom
Level and Field(s) of study Development Solutions Masters Scholarship:
Full-time Development Solutions Masters Scholarship , including MRes, at Nottingham for September 2021 in an area of study within the following faculties:
Faculty of Engineering

Faculty of Medicine & Health Sciences

Faculty of Science

Faculty of Social Science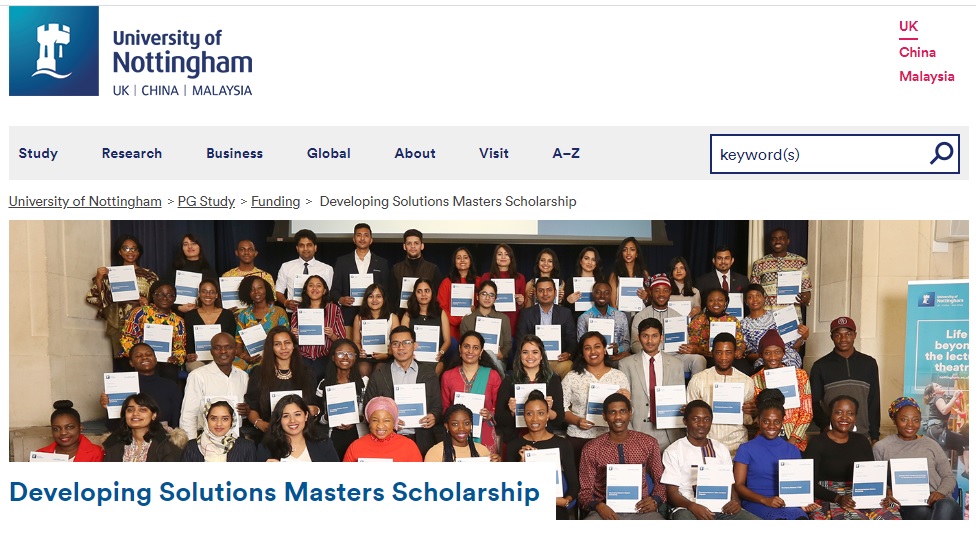 Development Solutions Masters Scholarship Eligibility Criteria 
Applications for

Development Solutions Masters Scholarship

in 2021 will open in December 2021.

National, (or permanently domiciled in) Africa, India or one of the countries of the Commonwealth.

Are classified as a foreign student for fee purposes.

Students Not already studied outside of your home country.

Students are not currently studying at a University of Nottingham campus or are not a University of Nottingham graduate.

The application for the Swami Scholarship in 2021 opened in December 2021.
Eligible Countries:
Nationals of (or permanently domiciled in) Africa, India or one of the countries of the Commonwealth listed below:
Anguilla, Antigua and Barbuda, Bangladesh, Barbados, Belize, Bermuda, British Virgin Islands, Brunei, Cayman Islands, Dominica, Dominican Republic, Falkland Islands, Fiji, Gibraltar, Grenada, Guyana, Jamaica, Kiribati, Malaysia, Maldives, Montserrat, Nauru, Nepal, Pakistan, Papua New Guinea, Pitcairn, St Helena, St Kitts and Nevis, St Lucia, St Vincent, Solomon Islands, Sri Lanka, Tonga, Trinidad and Tobago, Tristan da Cunha, Turks and Caicos, Tuvalu, Vanuatu, Western Samoa.
Contacts details 
International Student Recruitment
C Floor, YANG Fujia Building
Jubilee Campus, Wollaton Road
Nottingham, NG8 1BB, UK
Frequently Asked Questions (FAQ)
Q- How to view the details of a particular plan?

Ans-  You can click on the guideline display special scheme in section online Boarded schemes on the home page link.

Q-  Would the Login credentials be sent by SMS?

Ans-  Yes. The Application lD and Password sent by SMS.

Q- How can I apply online for a Scholarship?

Ans-  In order to apply online please visit the website through URL https://www.nottingham.ac.uk/

Q- Can I apply for more than one scholarship?

Ans- If you meet the eligibility criteria for each scholarship, you can apply for more than one scholarship. For example, if you are from a certain country, you may be eligible to apply for one of our regional, subject, or study level scholarships.

Regional awards cannot be combined with the Nottingham Regional or any other university sports scholarship. However, you may be able to obtain another subject scholarship or an award from your country, where the combined total does not exceed 100% of the total tuition fees. See the scholarship information page for details.

Q- What information do I have to apply for the scholarship online?

Ans- Your MyNottingham username and password.

Q- What if I change my course of study it will affect my scholarship scheme? 

Ans- This will affect your scholarship application if your level of study, or the course you change, is not eligible for the scholarship for which you have applied. If you are awarded a scholarship you should tell us if you change your course so that we can confirm the status of your scholarship and update our records.

Q- Can I apply for a scholarship if I am already studying at the University of Nottingham?

Ans- We do not have any scholarships available for current students. If you offer the study to confirm the registration of the new degree courses related to the academic year, you can only apply for our scholarship.

Q- If I am awarded a scholarship and I defer my offer, can I postpone my scholarship?

Ans- No. You will not be able to postpone your scholarship. You should apply for our scholarship again next year and for the new scholarship year, you will need a confirmation offer. You should contact your school or admissions office to ensure that you can postpone your proposal and confirm it.

Q- The value of my scholarship is different from my online scholarship application?

Ans- If you have changed course, the value of your scholarship may change. Please also note that the tuition fee quoted in your offer letter is provisional and your actual fees will be confirmed online, this may affect the scholarship you are entitled to.

Q- My scholarship application has been successful. How do I accept my award at MyNottingham?

Ans- Log into 'MyNottingham' and click on the 'Finance' icon. Click on 'Anticipated Assistance Details' in the 'Grant' box. Click on the 'Add Year' hyperlink. Click on the 'Accept / Reject' award. Make sure the tick box is checked for the scholarship you want to accept, click 'Update Sum' and then 'Submit'. Click 'OK to accept 'Yes' to confirm. Please allow 24 hours to update the system. If no prize money appears in the 'Anticipated Assistance Details', please contact scholarship- assistant@nottingham.ac.uk.


Development Solutions Masters Scholarship 2021 Application Form