Dadra and Nagar Haveli scholarship 2023-24: DNH Scholarship is offering for the minority community students pursuing Diploma, Post Diploma, Graduation, and Post-graduation courses. Especially, the economically weak students the government decided to help them. Students studying at the post-matriculation level (Class 9 to 10) can apply for this scholarship.
Dadra and Nagar Haveli Scholarship 2023
The Scholarship has been remuneration 100 percent of fees for BPL girls students and 50 percent fees for those who are below poverty line girls students. The National Scholarship Portal is the government initiative to provide financial assistance to deserving students by awarding them a scholarship to pursue higher education and fulfill their dreams. It is a unique and simplified platform to help students get the benefits of educational scholarship efficiently and transparently. The government of India decided to start a mission under the project National E-Governance Plan (NGP) in which the deserving students get a scholarship. NSP is a one-stop solution through which various services starting from student application, application receipt, processing, sanction, and disbursal of various scholarships to Students.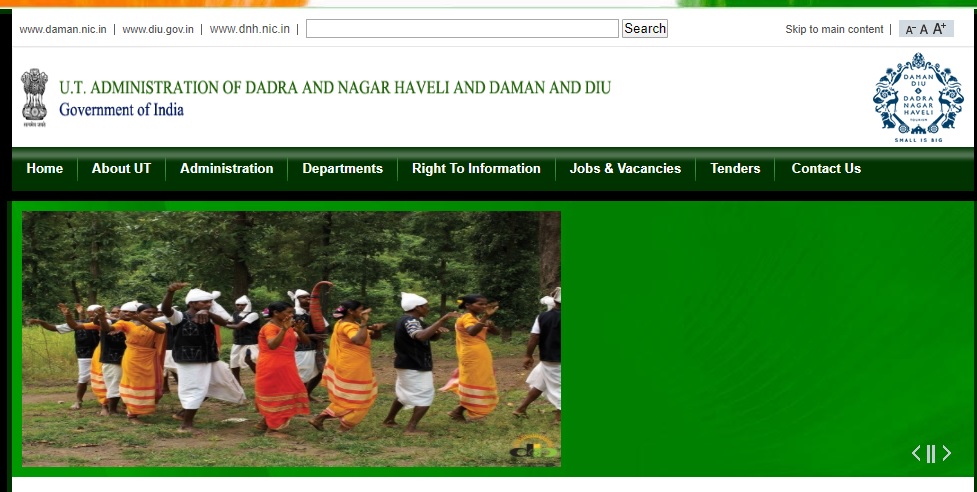 Saraswati Vidya Yojana DNH 2023-24
Interested candidates can apply for Saraswati Vidya Yojna for Reimbursement of fees to girls students for the Academic Year 2023-24 who are pursuing Diploma/Post Graduate Diploma/Graduate and Post Graduation level professional courses as under:
50% of fee reimbursement to girl Students whose parental annual income is above INR 1 lakh.
100% of fee reimbursement to girl students whose parental annual income is below INR 1 lakh.
Application completed in all respects should be submitted by registered post/Speed Post/By hand along with mandatory documents to the following address on or before November 2023.
Note: No applications forms will be accepted after November 2023 under any circumstances.
Dadra & Nagar Haveli Scholarship Eligibility Criteria
DNH scholarship 2023-24 Eligible Candidates as per NMMS Rules will be registered For NMMS Examination. To prove eligibility the candidate has to produce a Parental Annual Income Certificate from Competent Authority. This school should be of the category (a). Govt. (b). Local Body (c). Private-aided (by Govt. or Local Body. 
Many UT students are struggling financially while they pursue their academic goals. The government operates a number of programs to assist pupils who fall under the classifications of scheduled caste, scheduled tribe, and other backward classes. The Dadra & Nagar Haveli Scholarship is a program where the government would offer financial assistance.
Exam fees-
Rs. 100/- (for Gen. Category) Rs. 70/- (for SC 1ST)
Dadra and Nagar Haveli Scholarship Examination Scheme
The UT will conduct the State Level Examination which may consist of the following two tests.-
Mental Ability Test (MAT)

Scholastic Aptitude Test (SAT)
Mental Ability Test may consist of 90 multiple-choice questions testing verbal & Non-verbal Metacognitive abilities like reasoning & critical thinking based on Analogy, Classification Numerical series, Pattern perception, hidden figures, etc.
Scholastic Ability Test may consist of 90 multiple choice questions covering Science, Mathematics, and Social Sciences from subjects studied in Class-VII and VIII.
Duration of the test – Each test will be of 90 minutes duration. Children with a disability will be given extra time, as applicable.
Results For selecting students, the following conditions may apply:
The students must pass both the tests i.e. MAT and SAT with at least 40%marks in each. For the reserved category, this cut-off will be 32% marks. The parental income of the students should not be more than Rs.1.50 lakh per annum from all sources At the time of selection for the award of scholarship the candidate must have scored at least 55% marks or equivalent grade in the Class VIII examination. There will be 5% relaxation for SC/ST. The awardees should satisfy the eligibilities and the conditions mentioned in the scheme.
Dadra and Nagar Haveli Scholarship

Documents Required
Income declaration affidavit.

Caste Certificate.

One Passport size photograph.

Income Certificate.

Attested Copy of last Qualifying Mark sheet/Certificate.

Residential proof.

Bank passbook with the photograph.

30 % of seats are for girl's students.

Essential 50% marks in the pre-qualifying exam.

PAN Card.
Dadra and Nagar Haveli Scholarship Application Process:
First, visit the official web portal of the Department i.e. www.scholarships.gov.in. Now go to an option of SCHOLARSHIP on the homepage of the website and click on it.

Here is a link of Dadra & Nagar Haveli National Scholarship Portal and click on it.

Now press on Apply Section and start filling your NSP Scholarship Application Form as per your documents/certificates.

Attach your scanned signature/photo/educational & personal documents (which is required).

At last, take the print out of this copy for further usage.
Frequently Asked Questions (FAQ)
What is the Pre-matric Dadar and Nagar Haveli Scholarship Scheme for Minorities Communities?
The scheme aims to encourage parents of minorities to send their school-going children, lighten their financial position on schooling, and make efforts to ensure full schooling to their children. Provides pre-matric scholarship scheme for minority communities Scholarship to students from class one to tenth in Govt. Recognized Private School / Institute in India. (See website: – www.minorityaffairs.gov.in)
How is the distribution of pre-matric Dadar and Nagar Haveli Scholarship amount, student?
The State Government / Union Territory Administration concerned or their designated agencies maintain the student's bank account and admission and course/tuition fee.
Who is eligible to apply for the pre-matric Dadar and Nagar Haveli Scholarship?
Students belonging to Muslim / Christian / Sikh / Buddhist / Zoroastrian should get 50% marks in the previous examination. The annual income of parents/guardians of the students does not exceed 1 lakh. Advertisement published by the concerned State Government / Union Territory Administration can apply for the pre-matric scholarship.
Dadra and Nagar Haveli Scholarship 2023 dnh scholarship 2023-24