CCI Essay Competition 2023: CCI (Competition Commission of India ) announces National Level Essay Competition 2023, for students pursuing under-graduate and post-graduate degree. Participants can submit their entries by e-mail to akam@cci.gov.in with entry form duly forwarded by their respective educational institutions latest by October 2023 (1800 hrs).
Following the rigorous criteria of the relevant official entity, namely the Competition Commission of India, a new advertisement addressing the CCI National Level Essay Competition for undergraduate and postgraduate students has been released. Before completing the CCI Application Form online, the Applying Candidate must confirm their eligibility.
The Competition Commission of India (CCI) conducts an annual National Level Essay Competition for students across India. The competition aims to create awareness about competition issues and the role of the CCI in promoting fair competition in the Indian economy. The competition is open to students of all levels, including undergraduate and graduate students. The competition typically includes topics such as competition law and policy, consumer protection, and the role of competition in promoting economic growth and development.
The competition is usually held in the month of October, the participants are required to submit their essays online. The essays are evaluated by a panel of experts, and the winners are awarded cash prizes and certificates. The winning essays are also published on the CCI website.
Students can demonstrate their writing and research abilities while also learning about competition policy by taking part in this competition. Students and the general public may become more aware of the value of fair competition in the market as a result.
CCI National Level Essay Competition are divided into two category:–
Category I:
-pursuing Under-Graduate courses – including students in first 3 years of an Integrated PG course including CA/CS/CMA
Category II:
-pursuing Post- Graduate degrees-including PG Diploma/M.Phil./Ph.D./CA/CS/CMA/MBA.
Who are not eligible for Competition:
-Wards and relatives of employees of CCI or officer of Director General CCI,GOI are not eligible for this competition.
Topic Assigned for CCI Competition:
(1) Growth of Digital Economy – A Challenge for Competition Regulators,OR
(2) Eight Years of Competition Law Enforcement in India .
CCI National Level Essay Competition Details
Course level:-
pursuing under-graduate and post-graduate degree(including PG Diploma/M.Phil./Ph.D./CA/CS/CMA/MBA).
Provided by:-
Competition Commission of India(CCI)
Language used in CCI National Level Essay Competition:
English only
The Length of Essay:
maximum 3000 words including footnotes and Minimum words limit advised as 1500 words.
Fee details for entry:
Entry fee – free.
Official Website:
www.cci.gov.in
Eligibility
The applicant must be a student as on 1st October, 2023 pursuing undergraduate or post graduate course in Law, Economics, Management and Regulatory Governance in any recognized university in India.
Wards and relatives of employees of Competition Commission of India or office of Director General-CCI or Ministry of Corporate Affairs, GOI are NOT ELIGIBLE to
participate in this competition.
How to Apply In CCI Essay Competition
-The entries have to be sent, latest by October 2023 through email only at advocacy@cci.gov.in in English language only.
-The subject of email may be CCI National Essay Competition 2023.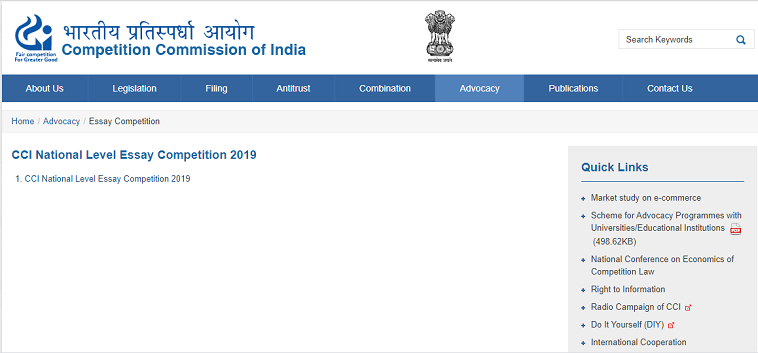 CCI Scholarship Rewards
Prize for Undergraduate students:
First prize : Rs. 40,000
Second prize: Rs. 20,000
Third prize : Rs. 10,000
Consolation prize [2]: Rs. 5,000 each
Prizes for Post graduate students:
First prize : Rs. 50,000
Second prize: Rs. 25,000
Third prize : Rs. 15,000
Consolation prize [2]: Rs. 5,000 each.
The winners of Competition get:
-Winners of CCI Competition will receive attractive cash prizes and Names of the winners will be announce on CCI's website and
-Separate notice will also be sent to each of the winner for collect the prize in an appropriate programme.
-The winners will also get a certificate.
Documents Required For CCI National Essay Competition
-A copy of student Identity Card and Aadhar Card is required at the time of submitting their essay report.
A detailed review of each application will be made as strictly as possible, all the submitted details of the selection of all the candidates.
21-year-old 17-year-olds (such as the physically disabled or blind Paralympic special and deaf students) are eligible to apply for the scholarship.
Submitted by Speed ​​Post Offices, acceptance provides an application to any address given below, all should be sent
Competition Commission of India
9th Floor, Office Block – 1
Kidwai Nagar (East)
New Delhi: 110023, India.
EPABX Board Number 014-28100
Fax number 011-20815022
One has to apply along with a copy of the certificate, identity- (other copy), and income (preferably ration card copy) (all confirmed) and application fee for copies of evidence – a copy of the money order of Rs. SC / ST / OBC / OEC / Student Booking Category.
Frequently Asked Questions (FAQ)
Do I need a digital signature?
Yes, the digital signature is required for verification of the registered user as well as uploaded documents.
What is the size of the documents to be uploaded?
The maximum size limit for a file to be uploaded is 20 MB. If there are photographs or other scanned documents that need to be uploaded, care should be taken to scan such documents, save photos as a PDF document using an image resolution of 300 dpi.
How is the payment made?
Payment to CCI will be done through e-payment gateway. Payment will be through the e-payment gateway of the Corporation Bank. The fee to be paid through internet banking is 20 + applicable service tax and in case of payment through other modes (eg debit card/credit card), the fee is more than 1.80% of the amount paid through the portal and Service tax is applicable
If the Commission needs additional documents/information/clarification, how can these be uploaded?
Once the receipt is issued and during the hearing, the Commission or otherwise seeks additional documents (including the information required as per the combination rules) these can be uploaded by logging in via the user ID and password selected at the time of registration.
CCI National Level Essay Competition 2023, Eligibility, Rewards, Application Process