CBSE Udaan Scholarship 2023-24: CBSE UDAAN 2023 Application Form will be Releasing Soon. Check the details on to CBSE Udaan Scholarship Scheme for Girls to prepare Engineering Entrance Examination in Free. Only girls qualified candidates to apply for a scholarship Udaan 2023. This is an initiative by the (CBSE) Central Board of Secondary Education to give free exam preparation for girls who wish to do Engineering as their career. This scholarship was initiated in 2014 under the supervision of the HRD Ministry. The meritorious students of class 11th and 12th will be benefited from this scholarship. The main aim behind  CBSE Udaan scholarship is to encourage and empower girls to prepare well for the Joint Entrance Examination ( abbreviated as JEE ). The main purpose of this scholarship is also to grow learning depth at the secondary level. This is a very noble opportunity for every student in India, belonging to any Education board of education, apart from CBSE as well. All selected girls will be provided with free preparation for JEE with all the resources, regular assessments, and proper guidance.
The interested applicants would need to fill the UDAAN application form by visiting the official website of CBSE- www.cbse.nic.in or www.cbseacademic.in.
To be eligible for the CBSE Udaan Scholarship Scheme for Girls, the student must have passed Class XII in the state or central board examinations in the academic year 2023-24 by any means and must have scored the highest total marks in the school. From the entries received, the students scoring the highest marks will be selected for the award.
CBSE Udaan Scholarship 2023
CBSE Udaan Scholarship is a program offered by the Central Board of Secondary Education (CBSE) to provide financial assistance to students from economically and socially disadvantaged backgrounds who wish to pursue higher education. The scholarship is targeted at students who have passed the CBSE Class 12th examination and wish to study in fields such as engineering, medicine, and basic sciences.UDAAN is an initiative developed by the CBSE under the auspices of the Ministry of Human Resource Development (MHRD) to address the low enrollment of female students in famous engineering institutes, as well as the instructional gap between school and engineering admission examinations. The goal is to provide a forum that empowers female students. 
To apply for the scholarship, students typically need to meet certain eligibility criteria, such as:
Having passed the CBSE Class 12th examination
Securing a minimum of 60% marks in Class 12th examination
Belonging to a specific category (such as Scheduled Caste, Scheduled Tribe, Other Backward Classes, or Economically Weaker Section)
Having a certain level of family income
Enrolling in a recognized college or university in India
The scholarship amount is usually INR 75,000 per year for a maximum period of four years or the duration of the course whichever is less.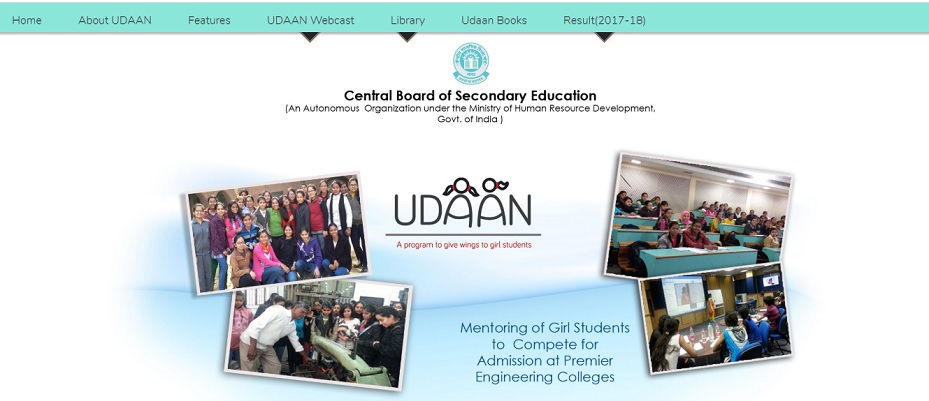 Key Points CBSE UDAAN Scholarship 2023
Contact Us at:
Central Board of Secondary Education
Shiksha Sadan,
17 Rouse Avenue,
New Delhi 110 002
Phone no:
011 – 23214737
Email:
udaan.cbse2017@gmail.com
Website:
cbseacademic.nic.in
Reservation as per JEE (Advanced)
OBC (NCL) – 27 % , SC – 15 % , ST – 7.5 % ,PWD – 3 % of seats in every category
The annual family income
should be less than 6 lakhs per annum
Girl students enrolled in
Class XI in Physics, Chemistry, Mathematics (PCM) stream.
Features of CBSE Udaan for female candidates of class 11th and 12th
CBSE Udaan Scholarship is aimed to give a platform for female students to pursue their higher education in the field of Engineering. They make this possible by providing them with free preparation for Engg. Entrance Tests.
Support girl candidates of class 11th & 12th, free of cost.
Organize motivation lecture for candidates and their parents.
Provide tutorials,  online study material with video.
Organize virtual classes for the students at the specified study centers.
 Students are provided with free tablets beforehand. 
Provide online Fundamental material through a website.
To make girls educated and independent.
Financial support will be provided to girl candidates in the form of admission and tuition fees. Moreover, 75% attendance is mandatory.
Every year 1000 of students are benefitted from this scholarship.
Student helpline services are also provided to clear every doubt and monitor the candidates.
Students' progress is tracked and the feedback is sent to the parents on regular basis.
Know More: Women and Girls Scholarship Scheme by the Government of India
How To Fill CBSE Udaan Application Form 2023
All the girl applicants of class 11th and 12th are allowed to fill the online application form of CBSE UDAAN 2023. Follow the steps below –
CBSE Udaan Scholarship Visit the website: www.cbse,nic,in/wwew.cbseacademic.in
Go through the brochure that is available on the website.
Fill all the fields properly in the registration form and submit it.
Submit all the docs & the registration form to the city coordinator and get your acknowledgment receipt for further use.
Attach the fully verified form with all the required docs (Annual Income Certificate, Undertaking mentioning the student to be a regular one, reservation certificate for minority categories, class 10th mark sheet, etc. ).
Save the printout of the application form, get it signed by parents ( the undertaking ), (verification certificate ) principal of the school, along with the applicant's confirmation certificate.
Know More: Girls Scholarship Scheme 2023: [Government and Private Organizations]
Eligibility Criteria for CBSE Udaan 2023
The applicant should be a citizen of India.
Only girl candidates can apply for this scholarship.
The girl students who have enrolled in Physics & Mathematics & Chemistry stream n class 11th.
The candidate should secure an overall percentage of 70% and an average of 80% in Mathematics and Science in class 10th.
The candidates are required to obtain a CGPA of 8 and a CGPA of 9 in Science and Math. 

The family income of the candidate must not surpass Rs.6 Lakh per year.

The selection will be agreed in order of a merit basis only.
The girl candidate passed from any of the recognized institutions, can be eligible for this scholarship.
There is a reservation of 27% OBC category, 15% SC Category, 7.5% ST Category and 3% PWD category for consideration in JEE Advance.
Those applicants whose parents' annual income is not more than INR 6 lakh are only eligible to apply.
Reservation as per JEE (Advanced): OBC (NCL) – 27 % , SC – 15 % , ST – 7.5 % , PWD – 3 % of seats in every category
Know More: Scholarship programs for the Girl child To give a platform to explore their future
Procedure for Selection in Udaan Scholarship
 The qualified candidates will get easy access to an online portal which will be organized for class 11th and 12th one after another,  for the main subjects such as Mathematics, Physics, and Chemistry.  This portal will include lecture videos, tutorials, and text content. The concepts on the portal will be arranged in a manner similar to that of classroom teaching and learning.
DOCUMENTS REQUIRED:
Passport size photograph[in JPEG format]
Mark sheet of Board Exam.
Annual Income Certificate
Identity proof.
CBSE Udaan Scholarship Important Link:
Frequently Asked Questions (FAQ)
To whom is this CBSE UDAAN scholarship awarded?
The scholarship is specifically organized for girl students who want to do something in the engineering field.
What will be the class process during the scholarship?
Classes are provided to girls students during the scholarship online and offline which takes place once a weekend.
Who can apply to CBSE UDAAN?
The mentorship program is for private schools affiliated to KVS / JNV / Girls of Government schools / CBSE of any recognized board in India.
How girls are selected for a CBSE UDAAN scholarship?
Students are selected based on the merit list.
CBSE Udaan Scholarship 2023 For Girls Free Engineering Entrance Exam Preparation