CADD Quest Scholarship 2023 has been organized since about 2 years ago, through CADD, all students are given technical skills through scholarship. Through scholarship, all the students are encouraged by technical skills, they are prepared for industrial so that they can go ahead and earn a good name in technical industries. For nearly 20 years, 600,000 students have got an opportunity in the technology line through a scholarship to build their careers. Candidates can participate in scholarships and know what will be the benefit through this scholarship and what do you have to do to achieve this goal?
All students will have to participate in the CADD quest 2023 and win the Scholarship. After that, you will get the benefit of two hundred percent (200%) from what you pay. you can upgrade your skills and make your career the best.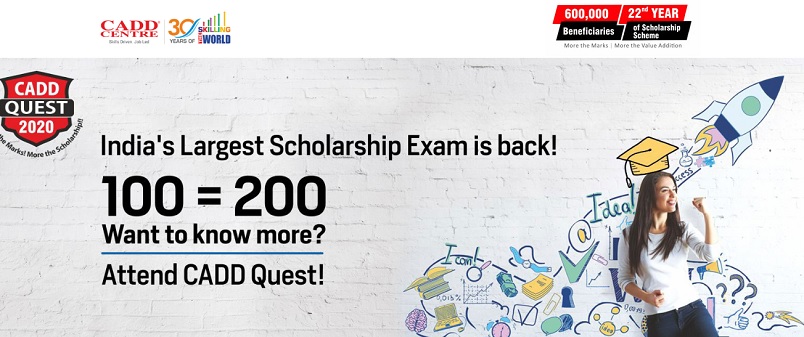 CADD Centre Presenting a scholarship that will change your life!
CADD Quest is a scholarship initiative taken by CADD Centre about two decades ago, with the ultimate aim to provide technical skills and accordingly make more and more students industry-ready.
Important Dates for CADD Quest :
State: Tamilnadu, Puducherry & Karnataka
Test Dates: 6th,7th , 13th, 14th February 2023
What are the step to participate for CADD Quest?
Students must visit the CADD Quest Scholarships website. (

Click Here)

On the right side on the home page, click on Registration Now and you will have to fill all the information asked.

In the information, you will have to give your name, mail ID, contact detail, state district, your nearest center, test date, branch time, and how did you come to know about this scholarship.

After submitting all the details, you will be provided the admit card will come to your email ID online, so please enter your email ID accurately.

Admit card will be provided through CEDD Quest Scholarship 2023 so that you can stay connected with them and if you have an inquiry, you can visit their website.
Examination time
The exam will be taken through your online and it will be for 1 hour.
Questions mode
50 objective type questions
Subjects
General Knowledge, Basic Maths, Basic English, and Basic aptitude.
Skills
Stand a chance to acquire advanced skills in CAD & CAE.
Selection procedure
The CADD Quest Scholarship 2023 will be decided by the examination marks of the students. 
Eligibility criteria
The candidate applying should be a bonafide student of the state. Tamil Nadu, Puducherry, and Karnataka

He should have passed 10th and 12th with an average of 60%.

The applicant should be considered a backward class from the state.

Only 2 applicants can apply for these schemes.
How to apply for fresh and renewal scholarships?
Scholarship applicants CADD Quest Scholarship forms are available on the official website. Applicants need to be filled online and must be sent online for uploading through your entire document. Follow the procedure below to implement it.
Visit the official web portal of https://www.caddcentre.com/caddquest/

Then click on Apply Online

There you will choose different schemes CADD Quest Scholarship.

Enter the year of pass

Enter academic year

Enter your date of birth

After entering all the details at the appropriate place, the student has to click on the submit box.
Where do you have to take the test?
Students who are interested in this exam and want to win this scholarship can take the exam online from their phone, laptop, computer, and apart from this there is an opportunity that they can take the exam by visiting any nearest CADD center.
NOTE:- There is important information for all the students who are participating in this exam, they have to go to the nearest CADD center and create their password according to which I can log in to their ID.
CADD Quest – Frequently Asked Questions (FAQ)
Which candidate is eligible for the scholarship?
Candidates who wish to apply for CADD Quest Scholarship 2023 will have to pass the 12th standard form reputed education board, after which they will be eligible to apply.
What percentage of the scholarship will the students get?
According to the records of every year, 50% percent scholarship is given to the students scoring more than 90% marks in the General Aptitude Test. Approximately the scholarship is awarded according to the performance of the student.
How do we know that we will receive the scholarship?
As you know, the scholarship was awarded based on the performance of the students. The General Aptitude Test is conducted for scholarships.  One week after the exam ends, you start getting results and if you are selected for the scholarship, the message is sent to your registered phone number and mail id.

Even after this, if you have any inquiry or doubt, you can contact. Details are mention on the official website.

What to do at the time of submitting the application?
When students apply for the application form, they can carefully submit every document and registration will be completed only when you give form 100 for the registration fee.
Contact Details
Kannur – Thalap
3rd Floor, DownTown Complex
Near Koyili hospital, Talap
Kannur-2, Kerala.
0497-2763103, 9447881122
info@caddcentrekannur.com
Thalassery
2nd Floor, Barka Plazza
New Bus stand
Kannur Dist, Kerala.
0490 2323235, 9400050101
cctstly@gmail.com
Livewire- Fort Road
Ground Floor,Bilal Tower
Behind Lilly Sarees
Kannur-1, Kerala.
0497 2766444, 9497766444
caddcentrefortroad@gmail.com
CADD Quest Scholarship 2023 In India – caddcentre.org