CA/ICWA/CS Scholarship Scheme is a flagship education intercession program In which Kerala provides a scholarship for students belonging to Muslim, Christian, Sikh, Buddhist, Parsi, or Jain community also student/s associated with minority communities for pursuing CA/ICWA/CS.
Kerela is the state which has a higher education ratio than other states. The Kerela Scholarship 2021 has been provided by the state government. Application form for the scholarship can be forwarded through categories like OBC and Minority to the appropriate address mentioned in the notification or advertisement.
In India, Kerala is the top and best state in terms of literacy rate, with the Kerala State Government providing scholarships as second to none. The Kerala State Government is providing scholarships to minority / OBC students.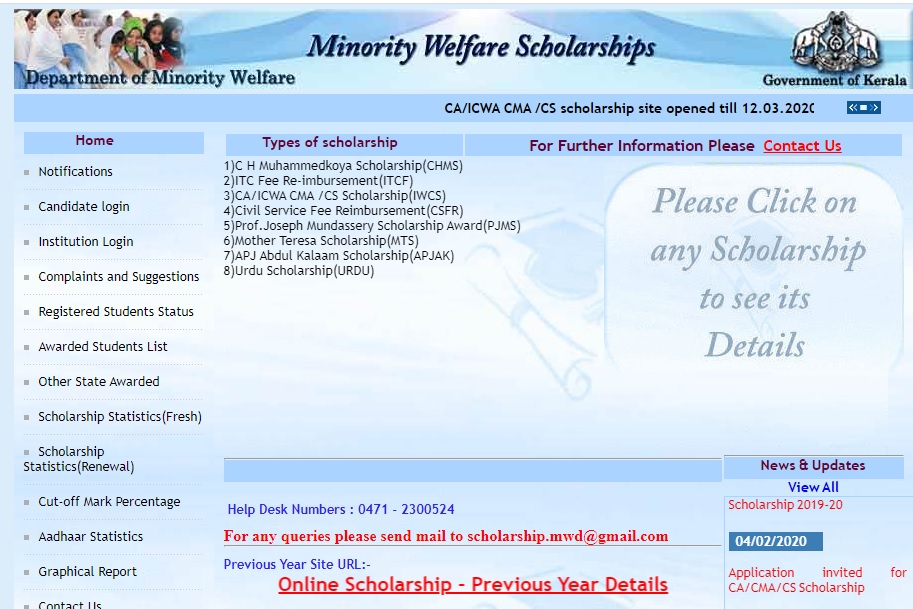 — Aim of the CA/ICWA/CS Scholarship Scheme
To give financial support to students from incapacitated(weaker) sections in pursuing CA/ICWA/CS courses
— Scholarship details:
– Course level:-CA/ICWA/CS courses
– Provided by:- the Department of Minority Welfare, Government of Kerala
– Applicable States : Kerala
— Benefits:
– Rs. 15,000/- per annum for : Final Course
– Rs. 15,000/- per annum for : Intermediate Course
– Rs. 15,000/- per annum for :Foundation Course
— Application Mode:
– Online only
— Last Date to Apply
– NA
— Eligibility criteria:-
– Applicant students Should belong to Muslim, Christian, Sikh, Buddhist, Parsi or Jain community.
– Student must score minimum 60 percentage or above in the qualifying Examination.
– Applicant Should be a native (from state) of Kerala.
– The applicant family Annual income should be less than Rs 8 lakh.
— Application Process / How to apply step by step:-
– Eligible candidates can apply for the CA/ICWA/CS Scholarship Scheme through the following steps (online mode only):
– Step 1: Go to the official link www.minoritywelfare.kerala.gov.in .
– Step 2: Click on the here to visit the online registration link.
– Step 3: Login/Register yourself with using Facebook, Google or Email account.
– Step 4: Fill in all the details and upload all related documents.
– Step 5: Upload photo, signature, once done click on Submit.
– Step 6: Attach all the requisite documents and submit it to the institution (via online mode).
— Required Documents (Mandatory):-
– Registration printout along with attached photo.
– SSLC/Plus 2/VHSE mark list copy.
– 1st page Photocopy of Bank Passbook.
– Proof of residence/Aadhar card (not mandatory) and Copy of Community Certificate/minority Certificate.
Frequently Asked Questions (FAQ)
CA/ICWA/CS Scholarship Scheme to be awarded.
Scholarships are being awarded to a defined community of Muslim Christian Parsis, Jains, Buddhists and Sikhs. Kerala scholarships are being awarded especially to students whose financial facilities are not good, due to which students are unable to complete further studies.
What is the procedure for submitting the application form?
The online process of submitting the CA/ICWA/CS Scholarship Scheme application form has been maintained, yet no offline process has been done
What should I do if I do not find the name of my institution in the drop-down menu?
Students should contact the Institute immediately to contact the Scholarship Office.
What is the role of Application ID?
Applicant ID is very important while applying, you get a password and user ID at that time. Aspirants can check their application status at any time with Applicant ID.
Can I make some corrections to the documents after submitting them?
No, after applying, he cannot make any improvement in any way. So whenever you fill your application form, submit it carefully after seeing it once. Otherwise, your incomplete application form may be rejected.
Can I print out my application at any stage?
Yes. 'Log Candidates' and take a printout using the link Print View / Print Application'.
CA/ICWA/CS Scholarship (IWCS) Scheme for students, Kerala 2023